W/e 15/7/2012
Art genius: Nine-year-old painter tipped for greatness after buyers from across the world snap up his work. Only started painting lessons in 2008Work bought by international collectors for tens of thousands of poundsPaints three pictures a weekProud mum has written book about his prodigal success By Daily Mail Reporter Published: 13:59 GMT, 12 July 2012 | Updated: 20:04 GMT, 12 July 2012 Nine-year-old Kieron Williamson's latest set of paintings sold within minutes fetching £250,000.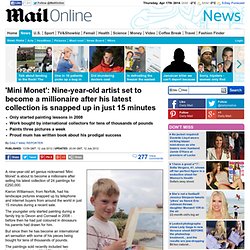 A nine-year-old art genius nicknamed 'Mini Monet' is about to become a millionaire after selling his latest collection of 24 paintings for £250,000. French demand Crown Jewels from the Queen for 1499 murder of Edward Plantagenet. French city of Angers in Loire Valley provided some of the greatest monarchs in British historyWhen Edward Plantagenet was murdered in Tower of London in 1499 house's legitimate male line came to an endCity believes it is owed an apology – and 513 years' worth of compensationSum would amount to billions in today's currency, but city is prepared to accept the coronation jewels By Peter Allen Published: 12:10 GMT, 15 July 2012 | Updated: 06:42 GMT, 16 July 2012.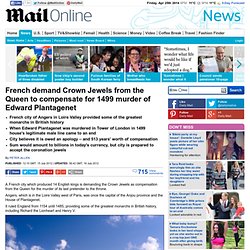 Scientists puzzled as HUNDREDS of healthy-looking penguins wash up dead in Brazil. By Daily Mail Reporter Published: 13:02 GMT, 15 July 2012 | Updated: 13:05 GMT, 15 July 2012 The bodies of more than 500 penguins have washed up on beaches in southern Brazil in the past week.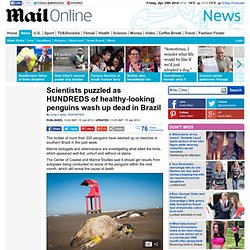 Marine biologists and veterinarians are investigating what killed the birds, which appeared well-fed, unhurt and without oil stains. The Center of Coastal and Marine Studies said it should get results from autopsies being conducted on some of the penguins within the next month, which will reveal the cause of death. Chimp adopted by bull mastiff.
By Daily Mail Reporter Published: 13:59 GMT, 12 July 2012 | Updated: 16:48 GMT, 12 July 2012 When this little chimp was abandoned by his mother his future looked grim.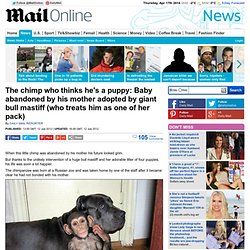 But thanks to the unlikely intervention of a huge bull mastiff and her adorable litter of four puppies, his life was soon a lot happier. Red sky at night: Space Station astronauts capture amazing photo of 'red sprite' electrical flash 50 miles up in the air during storm. By Daily Mail Reporter Published: 04:13 GMT, 13 July 2012 | Updated: 08:10 GMT, 13 July 2012 This amazing photograph shows the moment astronauts saw a dazzling but mysterious 'red sprite' leap high into the atmospheric above a lightning flash.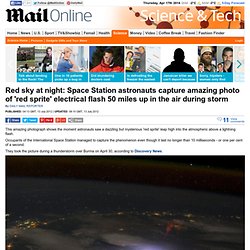 Occupants of the International Space Station managed to capture the phenomenon even though it last no longer than 10 milliseconds - or one per cent of a second. They took the picture during a thunderstorm over Burma on April 30, according to Discovery News. California dreaming? Waves at popular surfer beach glow bright blue at midnight. Chemical reaction, called bioluminescence, occurs when micro-organism in sea is disturbed by oxygen in waves By Rob Waugh Published: 10:38 GMT, 12 July 2012 | Updated: 11:06 GMT, 12 July 2012 At midnight, all around was dark, but each crash of the waves at a famous surfing beach created an eerie blue flash - caught on camera by a photographer who had a camera ready to capture the strange phenomenon.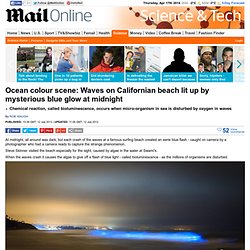 Steve Skinner visited the beach especially for the sight, caused by algae in the water at Swami's. When the waves crash it causes the algae to give off a flash of blue light - called bioluminescence - as the millions of organisms are disturbed. The man who gave the world his number - and it called: Jilted lover posts cellphone digits on fliers across New York - and gets 70,000 responses. By Rachel Quigley Published: 21:22 GMT, 12 July 2012 | Updated: 11:16 GMT, 13 July 2012 Breaking up with his girlfriend forced one lonely guy to take drastic action - and he ended up reaching out to thousands of people all over the world.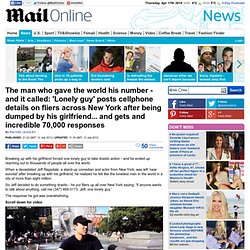 When a devastated Jeff Ragsdale, a stand-up comedian and actor from New York, was left 'near suicidal' after breaking up with his girlfriend, he realized he felt like the loneliest man in the world in a city of more than eight million. So Jeff decided to do something drastic - he put fliers up all over New York saying: 'If anyone wants to talk about anything, call me (347) 469-3173. Editta Sherman: Old Hollywood made new again: Photographer to the stars celebrates 100th birthday with dazzling images of days gone by. By Emily Anne Epstein Published: 22:50 GMT, 12 July 2012 | Updated: 19:15 GMT, 13 July 2012 Covered in sequins and surrounded by her family and friends, famed celebrity photographer Editta Sherman celebrated her 100th birthday this week with an exhibition of her life's greatest work.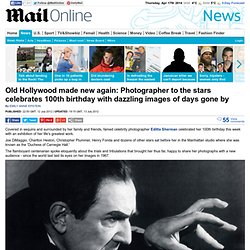 To the bat cave! Photographer captures rare and stunning images of hibernating species under threat of extinction. By Daily Mail Reporter Published: 12:29 GMT, 11 July 2012 | Updated: 13:59 GMT, 11 July 2012 At first glance the wall of this cave looks a little strange... caked with mud or adorned with a thick-growing fungus.
But, on closer inspection, it is actually covered by hundreds of thousands of slumbering bats. Treasure of the Crusaders' last stand: Pot of gold worth £300,000 found in fortress where it was buried by doomed Christian knights. Pot of gold 'Dinals' were buried by Crusaders as enemy forces closed in100 coins worth up to $5000 eachRemained hidden in fortress since 1265Hidden inside broken jug to prevent conquerors taking treasure By Rob Waugh Published: 08:50 GMT, 11 July 2012 | Updated: 13:17 GMT, 11 July 2012 Last stand: The coins were buried by Christian soldiers of the order of the Knights Hospitalier as the Crusaders faced an unstoppable attack by a huge Muslim army.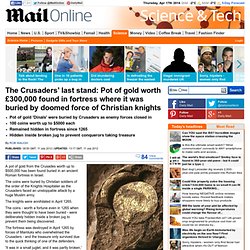 Husband denies claims he 'kept wife enslaved in chains for ten years forcing her to give birth twice while shackled and brutally. Peter Lizon kicked his wife Stephanie in the stomach causing her to miscarry a baby, it is allegedForced her to give birth to other baby while shackledPolice believe he ran over her feet with a tractor Allegedly called her his slave and made her kneel to himLawyer says Lizon's wife is standing by him and will deny the claims By Daily Mail Reporter Published: 17:17 GMT, 12 July 2012 | Updated: 19:22 GMT, 12 July 2012 'Horrific': Peter Lizon allegedly tortured his wife and made her kneel in front of him, claims he denies. Husband 'kept enslaved wife hostage in chains and brutally beat her for TEN YEARS' He delivered their baby while she remained chained up, it was alleged Police believe he ran over her feet with a tractor and broke her fingers Allegedly called her his slave and made her kneel to him By Emma Reynolds PUBLISHED: 10:14 GMT, 11 July 2012 | UPDATED: 16:09 GMT, 12 July 2012.
Mysterious 200-mile-high 'vortex' boils up over Saturn's moon Titan - and could offer insight into what lies beneath icy moon's clouds. By Rob Waugh PUBLISHED: 10:33 GMT, 11 July 2012 | UPDATED: 10:36 GMT, 11 July 2012 A 200-mile high pillar of cloud has boiled up out of the foggy atmosphere of Saturn's moon Titan. Nasa scientists are puzzling over the orbiting Cassini probe's images of the 'vortex' at the moon's south pole.
The find could offer an insight into the moon's mysterious atmosphere, where seasons last for seven years, and 300-foot dunes of frozen chemicals roll across the surface of the planet. The sun's solar flares keep on getting stronger - with latest hot spot the size of 15 Earths strung together. By Eddie Wrenn Published: 16:08 GMT, 9 July 2012 | Updated: 06:52 GMT, 10 July 2012 The sun is a tempestuous mistress - and her outbursts are becoming more and more violent as the weeks go on. NASA's Solar Dynamics Observatory spotted the summer's first 'X' solar flare on Friday - a huge outburst from the sun right at the top of the scale. How? Woman driver cheats death in bizarre road accident after she impales her car on dozens of TIPI poles.
By Daily Mail Reporter Published: 11:00 GMT, 11 July 2012 | Updated: 13:53 GMT, 11 July 2012 Highway patrol officers in Washington say a female driver is lucky to be alive after ramming her car into a trailer filled with long wooden teepee poles. The poles smashed through the front windscreen, completely pierced through the car and smashed through the rear windscreen as well.
Hair-raising pictures show the world's top base jumpers throwing themselves off huge mountain. Workmen destroy more than 20,000 rare turtle eggs after bulldozers hit beach. German seaplane recovered from depths of fjord 70 years after it sank raising hopes it could fly again. Bet they run like clockwork! Artist creates detailed model motorbikes made entirely from discarded watch parts. Inventing the first bows and arrows took early humans TWO MILLION years. Spain's ghost airport: The ¿1BILLION transport hub closed after just three years that's now falling into rack and ruin. Paris commuter train has carriages transformed to resemble rooms from the Palace of Versailles. Nun sparks unholy row over plans to build 24ft shining cross in her front garden which will offer ¿spiritual protection¿ to neighbours.
---