Vintage Clipart
Even though it's Thursday, today I'm posting the final digital bird nest graphic for the week. I hope you've enjoyed these splendid bird images! They're so sweet, especially the flowers that surround each nest. In this bird nest image Forget-Me-Not flowers ring the bottom of the nest.
Antique Images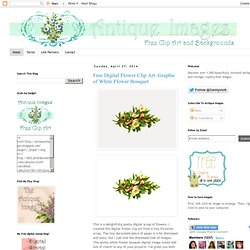 Clearly Vintage
Vintage Sewing Clip Art - Silhouettes - Thread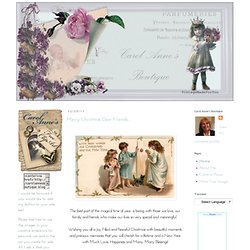 Carol Anne's Boutique
The best part of this magical time of year is being with those we love, our family and friends who make our lives so very special and meaningful. Wishing you all a Joy Filled and Peaceful Christmas with beautiful moments and precious memories that you will cherish for a lifetime and a New Year with Much Love, Happiness and Many, Many Blessings! Merry Christmas Friends…Thank you for making me smile and warming my heart this past year. You are all so very dear and special to me! With Love & Hugs,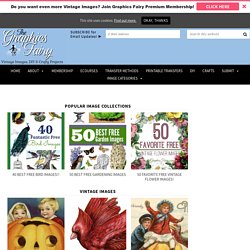 The Graphics Fairy is a resource for Home Decorators and Crafters. Find over 4,500 FREE Vintage Stock images, Illustrations, Old Pictures, Antique Graphics, Vintage Printables, to MAKE craft projects, collage, DIY, scrapbooking, etc! DIY and Craft Tutorials, and Home Decorating Ideas are offered as well. Daily vintage image downloads since 2007. Most are Jpegs, or PDFs, but there are some Vectors as well. As far as I know these are all Royalty Free Images that are in the Public Domain.
bumble button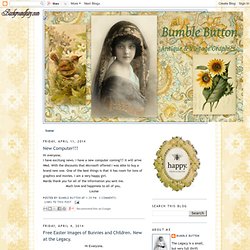 Hi everyone! Welcome to one and all. The beautiful paintings by Frank W.
-CatnipStudioCollage-
Clumsy but Dapper Frog Drops his Books, Comical Victorian Image! - Miss Mary's Victorian and Vintage Image Archive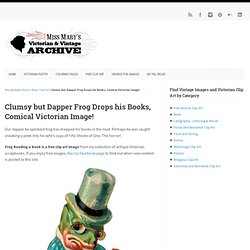 You are here: Home » Blog » Clip Art » Clumsy but Dapper Frog Drops his Books, Comical Victorian Image! Our dapper be speckled frog has dropped his books in the mud. Perhaps he was caught sneaking a peek into his wife's copy of Fifty Shades of Grey. The horror! Frog Reading a Book is a free clip art image from my collection of antique Victorian scrapbooks. If you enjoy free images, like my Facebook page to find out when new content is posted to this site.