Stereoscopy
Hand Held Stereoscope, wood with veneer. Courtesy Design of the Time. Also see Holmes Stereoscope Replica Kit. Alexander Beckers Tabletop cabinet stereo viewer models, 1860.(Above) Designed and manufactured by Alexander Beckers of New York, this is the basic early style with one pair of viewing lenses, constructed of gorgeous dark rosewood, that holds 36 stereo view cards or slides on a continuous belt.(Below) Beautiful hardwood 1860's cabinet stereo card viewer.
Stereoscopic Viewers
Stereoscopy.com - The World of 3D-Imaging! (3D Photography / Stereo Photography)
Click below to access individual stereo photographers If this is your first visit, please click the "Introduction to the LSC" button for an overview of what we are about. If you are seeking information on T. R. Williams, 1850s stereo photographer, and have been here before, please feel free to click straight away on the green "T.
London Stereoscopic Company - Official Web Site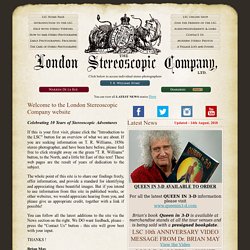 Vintage Stereoviews =view - a set on Flickr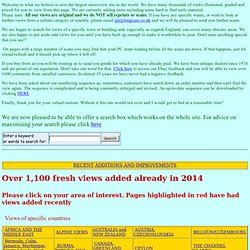 Welcome to what we believe is now the largest stereoview site in the world. We have many thousands of views illustrated, graded and priced for you to view from this page. We are currently adding more including some hard to find early material.Please note: All our views are original and we do NOT sell reprints or scans. If you have any specific wants, or wish to look at further views from a certain category or country, please email rjn@longcase.co.uk and we will be pleased to send you further scans. We are happy to search for views of a specific town or building and, especially as regards England, can cover many obscure areas.
stockpage
John Pitcher Spooner California Stereograph Collection