Players, Downloaders & Converters
Your download will begin in a moment...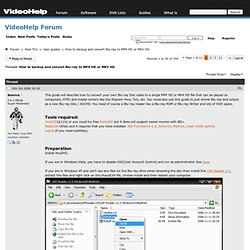 How to backup and convert Blu-ray to MP4 HD or MKV HD
This guide will describe how to convert your own Blu-ray Disc video to a single MP4 HD or MK4 HD file that can be played on computers, HTPC and media centers like the Popcorn Hour, Tvix, etc. You could also use this guide to just shrink Blu-ray and output as a new Blu-ray Disc / AVCHD. You need of course a Blu-ray reader like a Blu-ray ROM or Blu-ray Writer and lots of HDD space.
Free YouTube to MP3 Converter - Firefox Addon
* You must be running Safari 5 or later to install this properly. If you still have problems, right-click to save it to your desktop as extension.safariextz and install it that way The addon adds a link to various video service pages to facilitate direct conversion.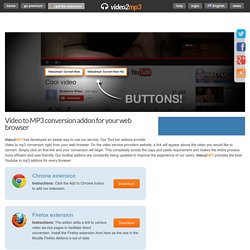 Convert MPEG, DivX, XviD, MPEG, WMV, AVI, VOB and many more to iPod MP4 Video. Alive iPod Video Converter is a professional ipod video software to convert your regular PC video files (avi, mpeg, divx, etc) into the proper video format that your iPod understands. It can convert AVI, MPEG, DivX, XviD, ASF, WMV, MOV, QickTime, VOB, MOD, MP4 to iPod video, such as AVI to iPod, MPEG to iPod, VOB to iPod.
iPod Video Converter