Pinterest as Social Media
Three kinds of people you'll meet through Pinterest's News Tab | Curalate Insights: Pinterest, Instagram Analytics & MarketingCuralate Insights: Pinterest, Instagram Analytics & Marketing
Get ready to start hearing a lot about Pinterest . From the New York Times to The Wall Street Journal to XOJane it seems like more people in the mainstream press are covering and integrating Pinterest into their day to day media consumption habits than us covering the niche tech vertical.
Pinterest Joins Twitter And Facebook As The Newest Self-Expression Engine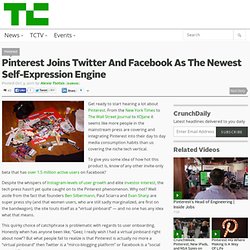 5 Ways to Use Pinterest as a Community Building Tool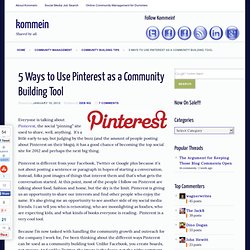 Everyone is talking about Pinterest , the social "pinning" site used to share, well, anything. It's a little early to say, but judging by the buzz (and the amount of people posting about Pinterest on their blogs), it has a good chance of becoming the top social site for 2012 and perhaps the next big thing.
Missing Links In Pinterest