Photoshop Resources
How to Install Photoshop Brushes, Styles, Shapes and Other Content. There are hundreds of Web sites (including this one) offering free Photoshop brushes, layer style effects, actions, shapes, patterns, gradients, and color swatch sets.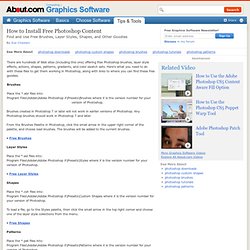 Here's what you need to do with these files to get them working in Photoshop, along with links to where you can find these free goodies. Brushes Place the *.abr files into: Program Files\Adobe\Adobe Photoshop X\Presets\Brushes where X is the version number for your version of Photoshop. Brushes created in Photoshop 7 or later will not work in earlier versions of Photoshop. Featured Photoshop Elements Tutorials. Photo Editing Checklist April 4, 2014 Here's a quick checklist that will remind you of the photo editing steps that most images need.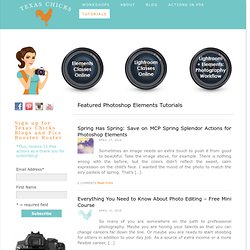 Photoshop Elements Tutorial: My Favorite Tools and Their Settings. The tool options bar in Photoshop Elements was the subject of last week's tutorial.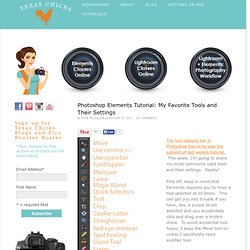 This week, I'm going to share my most commonly used tools and their settings. Ready? Photoshop Elements Tutorial: Layer Masks. Layer masks have got to be one of the most intimidating parts of Photoshop Elements.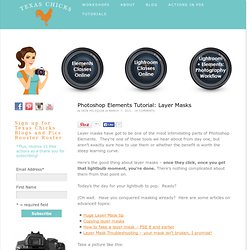 They're one of those tools we hear about from day one, but aren't exactly sure how to use them or whether the benefit is worth the steep learning curve. Here's the good thing about layer masks – once they click, once you get that lightbulb moment, you're done. There's nothing complicated about them from that point on.
Photoshop Elements Tutorial: Brushes – Everything About Them. What is it with the Soft Round Brush in Photoshop Elements anyway?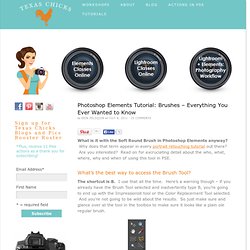 Why does that term appear in every portrait retouching tutorial out there? Are you interested? Read on for excruciating detail about the who, what, where, why and when of using this tool in PSE. Photoshop Elements Tutorial: Brushes – Find, Create, Load and Save. Last week's Photoshop Elements tutorial covered brushes in Photoshop Elements.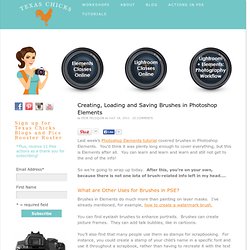 You'd think it was plenty long enough to cover everything, but this is Elements after all. You can learn and learn and learn and still not get to the end of the info! Photoshop Brushes. Photoshop brushes - Designers brush. 50 Dirty, Filthy Grunge Photoshop Effects. 30 Grunge, Dirty and Rusty High Resolution Tileable Backgrounds. An interesting and good looking collection of 30 high resolution grunge, rusty and dirty textures all created using Filter Forge Photoshop Plugins.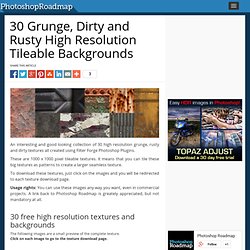 These are 1000 x 1000 pixel tileable textures. It means that you can tile these big textures as patterns to create a larger seamless texture. To download these textures, just click on the images and you will be redirected to each texture download page. Usage rights: You can use these images any way you want, even in commercial projects. 200+ Text Effects Photoshop Tutorials.
21 Free Photoshop Text Effects Tutorials. Text is very important part of any graphic design.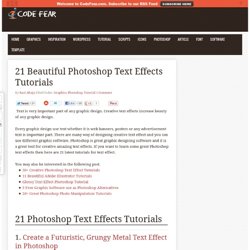 Creative text effects increase beauty of any graphic design. Every graphic design use text whether it is web banners, posters or any advertisement text is important part. There are many way of designing creative text effect and you can use different graphic software. Photoshop is great graphic designing software and it is a great tool for creative amazing text effects. 150+ Texture Related Photoshop Tutorials. Photoshop Elements Lessons and Tutorials. Photoshop Elements User Resources - tutorials tips downloads info.
Tips, tutorials, and free downloads for Adobe Photoshop Elements, Adobe's mid-rnage photo editing software.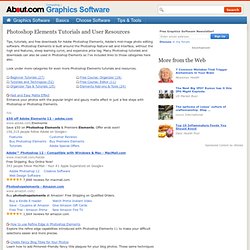 Photoshop Elements is built around the Photoshop feature-set and interface, without the high end features, steep learning curve, and expensive price tag. Many Photoshop tutorials and downloads can also be used in Photoshop Elements so I've included links to those categories here also. Look under more categories for even more Photoshop Elements tutorials and resources. Download 50 Splendid Retro Patterns for Photoshop. From Cosmic Pop art in the 60′s to neo Expressionism today, the colorful artworks of Peter Max have become an important part of the popular American culture.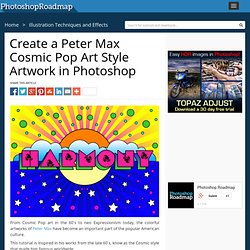 This tutorial is inspired in his works from the late 60′s, know as the Cosmic style that made him famous worldwide. This is a quite long tutorial, and for the sake of simplicity I will avoid explaining the basic use of tools and commands. How to Install Layer Styles in Older Versions of Photoshop Elements. There are hundreds of Web sites offering free Photoshop layer style effects in ASL file format. These Layer styles can also be used in Photoshop Elements. Here's what to do with these files to get them working in Elements. If you are installing layer styles in the latest version of Photoshop Elements, please visit the following link. • How to Use Free Photoshop Content in Photoshop Elements The following instructions are for installing layer styles into older versions of Photoshop Elements.
Free Photoshop Layer Style Effects. Free Photoshop layer style effects you can download for special effects in a jiffy. Layer styles are compatible with Photoshop 6 and up and can also be used with Photoshop Elements. Red, White and Blue Patriotic Layer StylesDownload a set of 36 patriotic layer styles with red, white and blue colors for your USA patriotic holiday projects.
---