Photo Storage & Sharing
Pullfolio :: Instant Professional Portfolio Site from your Flickr Photos. PotluckAlbum - Sharing Photos with your friends. Glossom - The Social Network for Visual Creatives. Earth Album : a slicker google maps + flickr mash-up. Photo clipart - Drawings • Images • Photos • Wallpapers • • Sketches • Icons Posters. Pingram: This site is Pinterest meets Instagram. Literally. Two of the biggest social media crazes these days are no doubt Instagram and Pinterest.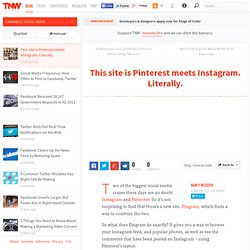 So it's not surprising to find that there's a new site, Pingram, which finds a way to combine the two. So what does Pingram do exactly? It gives you a way to browse your Instagram feed, and popular photos, as well as see the comments that have been posted on Instagram – using Pinterest's layout. When you open up a photo on Pingram, it's displayed as it would normally be seen using Instagram's native links. Pingram.me - The best Instagram Web Viewer. Instagr.am. Picasa. Snapfish.com.
Snapfish: French version. 500px : Photo Sharing Website. Zenfolio - Professional photo and video hosting for photographers and enthusiasts. SmugMug: Photo Sharing. Best Bets for Photo Sharing Sites. How do you share your photos?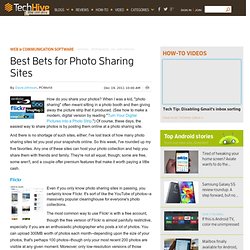 When I was a kid, "photo sharing" often meant sitting in a photo booth and then giving away the picture strip that it produced. (See how to make a modern, digital version by reading "Turn Your Digital Pictures into a Photo Strip. ") Of course, these days, the easiest way to share photos is by posting them online at a photo sharing site. And there is no shortage of such sites, either; I've lost track of how many photo sharing sites let you post your snapshots online. Webshots: Breathtaking desktop wallpaper. PictureTrail: Online Photo Sharing, Image Hosting, Online Photo Albums, Photo Slideshows. Fotki: Share and Print Your Photos | Fotki.com, photo and video sharing made easy. Flickr! Say hello to the new Flickr Uploadr.
Over the past 8 years, you've made Flickr your home for more than 7 billion photos.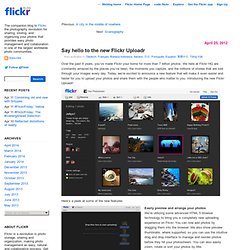 We here at Flickr HQ are constantly amazed by the places you've been, the moments you capture, and the millions of stories that are told through your images every day. Today, we're excited to announce a new feature that will make it even easier and faster for you to upload your photos and share them with the people who matter to you. Introducing the new Flickr Uploadr! Flickr Explains Their Copyright, TwitPic Terms Still Shady. With all of the recent controversy surrounding copyrights on the photo-sharing service TwitPic, Flickr made a wise decision to chime in regarding their rules of photo ownership.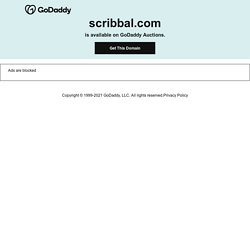 The controversy started over TwitPic's updated terms of service , which state that all content uploaded to the site is the copyrighted work of the uploader. However, TwitPic also retains the right to use and distribute that content on TwitPic or affiliated websites. If an external source wants to use a TwitPic photo for commercial purposes or distribution (excluding a retweet), they must get permission from TwitPic. XnView: Software for reading, organizing and processing images. Photobucket: Image hosting, free photo sharing & video sharing.
---