PEARLTREES
What is Pearltrees? Using Pearltrees. Interesting Pearltrees. Favourite Pearlers. Pearltrees Arrives On Android, Wants To Become The File Manager For The Post-PC Era. Pearltrees, the visual and collaborative library that lets you easily organize and bookmark information in tree-like structures, finally launched its Android app for phones and tablets today.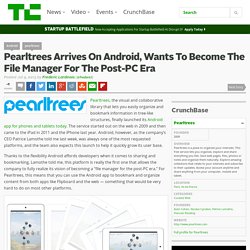 The service started out on the web in 2009 and then came to the iPad in 2011 and the iPhone last year. Android, however, as the company's CEO Patrice Lamothe told me last week, was always one of the most requested platforms, and the team also expects this launch to help it quickly grow its user base. Thanks to the flexibility Android affords developers when it comes to sharing and bookmarking, Lamothe told me, this platform is really the first one that allows the company to fully realize its vision of becoming a "file manager for the post-PC era." For Pearltrees, this means that you can use the Android app to bookmark and organize content from both apps like Flipboard and the web — something that would be very hard to do on most other platforms. Pearltrees overhauls its Android app as mobile adoption grows. UPDATE: In a previous version of this article, we suggested that the Android news was an update.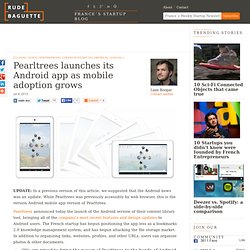 While Pearltrees was previously accessibly by web browser, this is the version Android mobile app version of Pearltrees. Pearltrees announced today the launch of the Android version of their content library tool, bringing all of the company's most recent features and design updates to Android users. The French startup has begun positioning the app less as a bookmarks 2.0 knowledge management system, and has begun attacking the file storage market. Pearltrees Hits Android, as it Prepares to Become a File Manager. Pearltrees is a content curation startup that we've been tracking for some time now, and today it's launching an app on Android.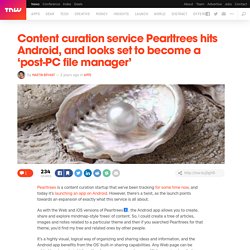 However, there's a twist, as the launch points towards an expansion of exactly what this service is all about. As with the Web and iOS versions of Pearltrees, the Android app allows you to create, share and explore mindmap-style 'trees' of content. Pearltrees Asimov goes live. Pearltrees can best be described as a visual and collaborative library that allows users to easily curate and keep track of their favorite subjects.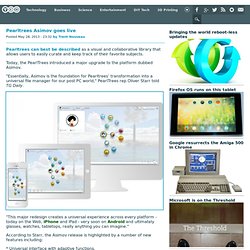 Today, the PearlTrees introduced a major upgrade to the platform dubbed Asimov. "Essentially, Asimov is the foundation for Pearltrees' transformation into a universal file manager for our post PC world," PearlTrees rep Oliver Starr told TG Daily. "This major redesign creates a universal experience across every platform - today on the Web, iPhone and iPad - very soon on Android and ultimately glasses, watches, tabletops, really anything you can imagine. " Curation service Pearltrees gets a new look, editing of shared Web pages and new pro account tiers. Pearltrees, the social curation service that helps you organise Web content, photos and notes ('pearls') into mindmap-style 'trees', is today unveiling a new look, new features for paying users and revised pro account tiers.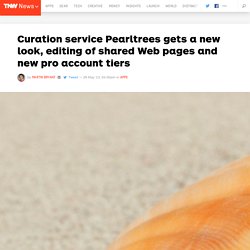 Pearltrees was launched in December 2010 and now boasts two million monthly active users, collecting over 50,000 links every day. The new UI, codenamed 'Asimov' by the French startup, is designed to provide a coherent, simpler experience across the Web, iOS and a forthcoming Android version. Pearltrees Gives Itself A Visual Refresh With New Customization Options, Major Redesign Coming Soon. Pearltrees, the Paris-based curation and discovery service, just launched a new version of its web and mobile apps.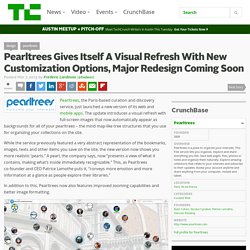 The update introduces a visual refresh with full-screen images that now automatically appear as backgrounds for all of your pearltrees – the mind map-like tree structures that you use for organizing your collections on the site. While the service previously featured a very abstract representation of the bookmarks, images, texts and other items you save on the site, the new version now shows you more realistic 'pearls." A pearl, the company says, now "presents a view of what it contains, making what's inside immediately recognizable." Pearltrees 1.0 offers Pearltrees Premium with privacy features. We have published several times about Pearltrees private and public beta version on the web, its updates and the launch of the mobile versions for iPad and iPhone.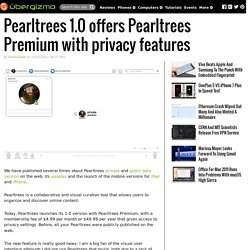 Pearltrees is a collaborative and visual curation tool that allows users to organize and discover online content. Today, Pearltrees launches its 1.0 version with Pearltrees Premium, with a membership fee of $4.99 per month or $49.99 per year that gives access to privacy settings. Before, all your Pearltrees were publicly published on the web. The new feature is really good news: I am a big fan of the visual user interface although I did not use Pearltrees that much, both due to a lack of time and a concern for privacy. The content that I collect in bookmarks or I flag in my Google reader remains private or is sharable with people I know. Pearltrees Goes 1.0, Launches Premium Accounts With Private Collections And Sharing. Curation and discovery service Pearltrees just announced the launch of its premium accounts.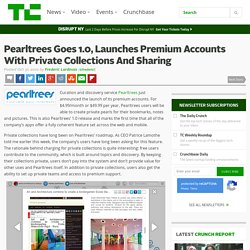 For $4.99/month or $49.99 per year, Pearltrees users will be able to create private pearls for their bookmarks, notes and pictures. This is also Pearltrees' 1.0 release and marks the first time that all of the company's apps offer a fully coherent feature set across the web and mobile. Private collections have long been on Pearltrees' roadmap. As CEO Patrice Lamothe told me earlier this week, the company's users have long been asking for this feature. Pearltrees add-n for Firefox. Pearltrees add-on for Google Chrome. Pearltrees for iPhone, iPod touch and iPad on the iTunes App Store. Description Pearltrees is a free, visual and collaborative library that lets you organize web pages, files, photos and notes to retrieve and share them anywhere easily.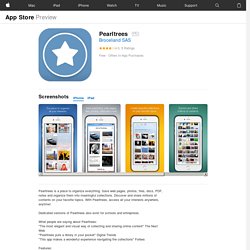 Leverage Pearltrees' community to discover amazing stuff related to your interests and enrich your account. Retrieve anything you keep in Pearltrees from your computer, mobile and tablet. What people are saying about Pearltrees: "The most elegant and visual way of collecting and sharing online content" The Next Web"Pearltrees puts a library in your pocket" Digital Trends"This app makes a wonderful experience navigating the pearls" Forbes Features: • Have everything you like at your fingertips all the time• Access your pearltrees from anywhere: computers, iPads and iPhones• Keep everything you like: web pages, files, photos and notes• Browse your favorite things blazingly fast• Discover interesting stuff in your area of interests• Collaborate on your favorite topics• Share all of this.
Pearltrees for iPhone. I have written about Pearltrees since the web application was in private beta back in April 2009, before the official launch in late 2009.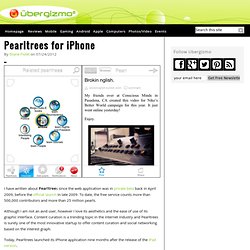 To date, the free service counts more than 500,000 contributors and more than 25 million pearls. Although I am not an avid user, however I love its aesthetics and the ease of use of its graphic interface. Content curation is a trending topic in the internet industry and Pearltrees is surely one of the most innovative startup to offer content curation and social networking based on the interest graph. Today, Pearltrees launched its iPhone application nine months after the release of the iPad version.
All versions allow users to organize content found on the web in pearltrees, and each pearl is in fact a web page.
---