Cinema
Movie People
Vintage Cinema. Bollywood. Film Artwork. Animated Films (Disney etc) Star Wars anniversary infographic reveals travel guide to film locations. By Carol Driver Published: 07:28 GMT, 26 May 2014 | Updated: 13:51 GMT, 26 May 2014 Star Wars fans - this is the only travel guide you will ever need, according to its designers.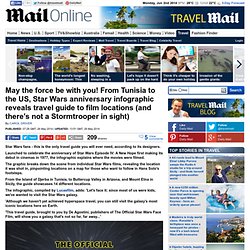 Launched to celebrate the anniversary of Star Wars Episode IV: A New Hope first making its debut in cinemas in 1977, the infographic explains where the movies were filmed. The graphic breaks down the scene from individual Star Wars films, revealing the location it was shot in, pinpointing locations on a map for those who want to follow in Hans Solo's footsteps. From the Island of Djerba in Tunisia, to Buttercup Valley in Arizona, and Mount Etna in Sicily, the guide showcases 14 different locations.
Angelina Jolie is menacing as Maleficent in poster for new Disney movie. By Jade Watkins and Daily Mail Reporter Published: 16:10 GMT, 12 November 2013 | Updated: 16:53 GMT, 13 November 2013 Fans have been given their first glimpse of Angelina Jolie in all her menacing Maleficent glory in a newly-released trailer for the upcoming Disney film, which is set to hit cinemas on May 30, 2014.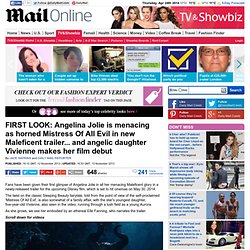 Maleficent and the Big Problem With Disney's Fairy Tale Reboots | Underwire. Photo: Frank Connor/Disney After two centuries of telling—and selling—our most iconic fairy tales, we've finally come to grips with the fact that those stories probably don't send the best messages.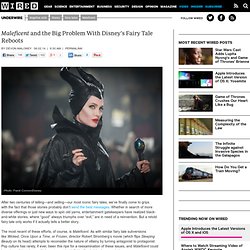 Whether in search of more diverse offerings or just new ways to spin old yarns, entertainment gatekeepers have realized black-and-white stories, where "good" always triumphs over "evil," are in need of a reinvention. But a retold fairy tale only works if it actually tells a better story. The most recent of these efforts, of course, is Maleficent. As with similar fairy tale subversions like Wicked, Once Upon a Time, or Frozen, director Robert Stromberg's movie (which flips Sleeping Beauty on its head) attempts to reconsider the nature of villainy by turning antagonist to protagonist. Steve rogers enthusiast — Reasons why I can't wait for Thor 2.
5 Upcoming Pixar Movies That Could Dominate The Genre. Incredibly detailed model of Hogwarts Castle used for every Harry Potter film is revealed for the first time. By Anthony Bond Updated: 14:02 GMT, 2 March 2012 Ever since the first Harry Potter novel was released almost 15 years ago, children and adults alike have fantasised about visiting its famous boarding school for wizards and witches.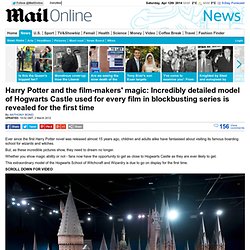 But, as these incredible pictures show, they need to dream no longer. Movie Locations: Travel Los Angeles. Crossroads of the World –the 1930s shopping mall that thinks it's an ocean liner Carry on south to Sunset and the illuminated spire and revolving globe of the Crossroads of the World, 6671 Sunset Boulevard, a 1936 open-air shopping mall passing itself off as an ocean liner, complete with portholes, gracefully sailing into various European 'villages'.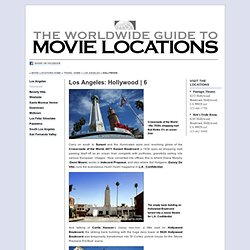 Now converted into offices, this is where Diana Murphy (Demi Moore) works in Indecent Proposal, and also where Sid Hudgens (Danny De Vito) runs the scandalous Hush! MelBlancShow - Click here for a bevy more Mel on Naked Gord's Mel Blanc Channel The Mel Blanc Show Archive. In pictures: Ray Harryhausen models shown in Bradford. Cinema History Around the World. Movies 12 (1990)Springfield OR Town Cinema 10 (1990)Ashland KY Movies 8 (1987)Round Rock TX.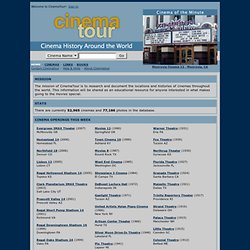 SNEAKPEEK.CA. Best movie mistakes. The Internet Movie Database (IMDb) Cinema Treasures. The origins of the film exchange.(Film distributors ) Film distributors frequently speak of 'selling' film to theaters even though films are actually rented on a limited basis.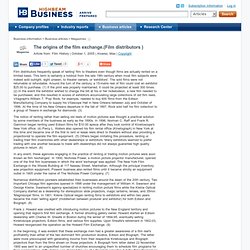 This term is certainly a holdout from the late 19th century when most film subjects were indeed sold outright, sight unseen, to theater owners, or 'exhibitors'. The sold films were not returnable or refundable. Around the turn of the century, a 15-metre reel of film could cost an exhibitor $25.00 to purchase. (1) If the print was properly maintained, it could be projected at least 300 times. (2) In the event the exhibitor wished to change the bill at his or her nickelodeon, a new film needed to be purchased, and this resulted in scores of exhibitors accumulating large collections of old film reels.
Vitagraph's William T. 'Pop' Rock, for example, needed to buy 600 films from the Edison Manufacturing Company to supply his Vitascope Hall in New Orleans between July and October of 1896. After the Final Curtain.
---