Central & South America
Mexico's Las Pozas park, surreal jungle gardens created by an eccentric Englishman. By Sarah Gordon Published: 09:44 GMT, 1 April 2014 | Updated: 18:05 GMT, 1 April 2014 The Mexican jungle is certainly not the first place you would look for art.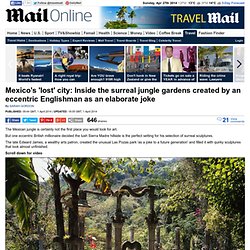 Hotel in Bolivia: Palacio de Sal is built entirely of salt and offers a treat for well-seasoned travellers. Bolivia's Palacio de Sal built using 10,000 tonnes of salt and offers 'treat for the eyes', owner claimsResort features golf course, dry sauna, steam room and saltwater baths all made from salt bricksBut parts of the hotel have to be rebuilt every year because the rain washes them away By Steve Nolan Published: 11:45 GMT, 12 November 2012 | Updated: 13:55 GMT, 12 November 2012.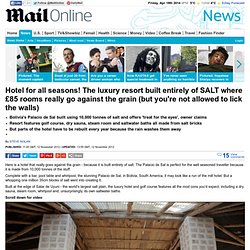 Day of the dead celebrations: Pictures from around the world. By Rik Sharma Published: 10:39 GMT, 2 November 2012 | Updated: 13:32 GMT, 2 November 2012 Though at first glance these people seem to have taken Halloween a bit too far, they are in fact taking part in a yearly ritual in which they celebrate their dead relatives.
Montana Magica Lodge: Amazing rainforest hotel shaped like a volcano that spews water. Montana Magica lodge lies deep in southern Chile on Unesco nature reserve By Nick Enoch Published: 16:06 GMT, 14 August 2012 | Updated: 18:56 GMT, 14 August 2012 A strange volcano-like building spews water instead of lava; its welcoming windows adorned with moss and vines, complementing the surrounding trees.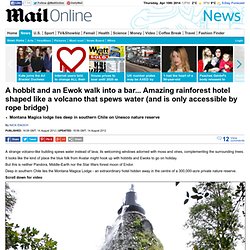 It looks like the kind of place the blue folk from Avatar might hook up with hobbits and Ewoks to go on holiday. The Amazing Salt Flats of Bolivia. By Rick Dewsbury Published: 10:36 GMT, 28 June 2012 | Updated: 10:47 GMT, 28 June 2012 A spot of reflection is always good for the soul.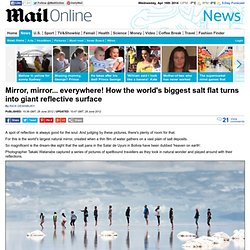 And judging by these pictures, there's plenty of room for that. For this is the world's largest natural mirror, created when a thin film of water gathers on a vast plain of salt deposits. World's biggest pool holds 66 million gallons and cost £1billion to build. The Crystal Lagoon at San Alfonso del Mar resort, Chile, is large enough for sailing and comes with its own fake beach By Lyle Brennan Published: 08:14 GMT, 21 May 2012 | Updated: 12:14 GMT, 21 May 2012 At the San Alfonso del Mar resort in Chile, a quick dip could well turn into a marathon.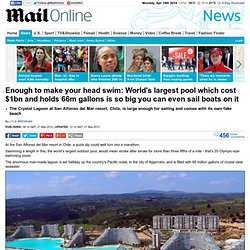 Scopolamine: Powerful drug growing in the forests of Colombia that ELIMINATES free will. Scopolamine often blown into faces of victims or added to drinksWithin minutes, victims are like 'zombies' - coherent, but with no free willSome victims report emptying bank accounts to robbers or helping them pillage own houseDrug is made from borrachero tree, which is common in Colombia By Beth Stebner Published: 22:44 GMT, 12 May 2012 | Updated: 13:43 GMT, 13 May 2012 A hazardous drug that eliminates free will and can wipe the memory of its victims is currently being dealt on the streets of Colombia.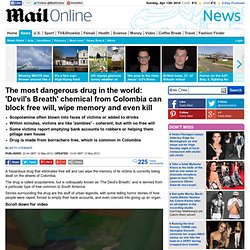 Underground ant city in Brazil that 'rivals the Great Wall of China' with a labyrinth of highways. By Julian Gavaghan Updated: 16:51 GMT, 2 February 2012 A sophisticated underground ant city once populated by millions of insects has been discovered by a team of scientists.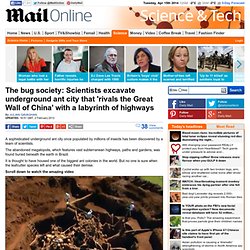 The abandoned megalopolis, which features vast subterranean highways, paths and gardens, was found buried beneath the earth in Brazil. It is thought to have housed one of the biggest ant colonies in the world. But no one is sure when the leafcutter species left and what caused their demise. Scroll down to watch the amazing video.
---