Book Cataloguing & Social Network Sites
Book Collector Connect. Automatic book details and cover art.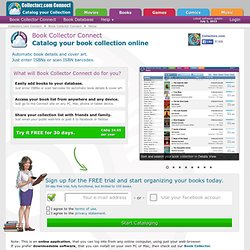 Just enter ISBNs or scan ISBN barcodes. Easily add books to your database. Goodreads - A booklovers social networking website. Why Goodreads Gave Up on Amazon. Goodreads, the social network for reading and reviewing books, had to make a change this month.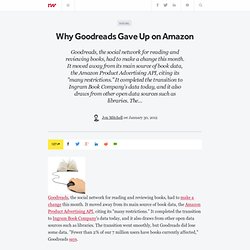 It moved away from its main source of book data, the Amazon Product Advertising API, citing its "many restrictions. " It completed the transition to Ingram Book Company's data today, and it also draws from other open data sources such as libraries. The transition went smoothly, but Goodreads did lose some data. "Fewer than 2% of our 7 million users have books currently affected," Goodreads says. Welcome to Shelfari! Read, Share, Explore! - Shelfari. LibraryThing | Catalog your books online. Welcome To FlipShelf: Catalog Your Books, Dvds, Video Games and Comics Online.
---