Blogger Resources
Blogger Tutorial :: Add a Signature to your Blog Posts. Hi There!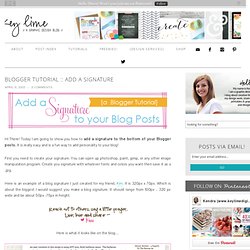 Today I am going to show you how to add a signature to the bottom of your Blogger posts. It is really easy and is a fun way to add personality to your blog! First you need to create your signature. You can open up photoshop, paint, gimp, or any other image manipulation program. Drop Down Menu Widget For Blogger · How To Do ? Tech. How toCustomize the Date Format on Blogger. ChinaWomenDating.asia Terms&Conditions If you wish to join as a member of ChinaWomenDating.asia and by registering become a member of any other websites connected with ChinaWomenDating, communicate with other Members and fully use ChinaWomenDating Services ("Services"), please read this Terms & Conditions ("the Agreement") and indicate your acceptance by clicking "Sign Up" or "Find Your Matches" on the registration forms.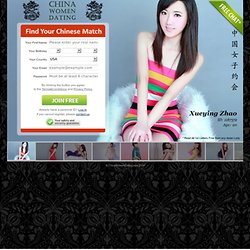 For purposes of this Agreement, "ChinaWomenDating.asia", "AsianBeauties.com" and "AsianBeauties" refer to one and the same entity and may be used interchangeably. Once you agree to all provisions of this Agreement, and click on "Sign Up" or "Find Your Matches" button, you will be bound by this Agreement whether you register as a ChinaWomenDating member ("Member") or not.
How To Install a Blogger Template, The Complete Guide and The Problems often Occur. | JackBook.Com. *These logos are registered trademarks of McDonald's, Best Buy, DELL, Olive Garden & Coca-Cola correspond with their respective companies SurveyPremium.com is not partnered, or sponsored by the aforementioned trademarks or companies.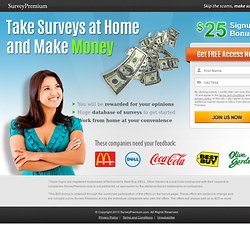 *The $25 bonus is obtained through the combined participation of the offers on the bonus page. These offers are subject to change and are not paid out by Survey Premium, but by the individual companies who own the offers. The offers will always add up to $25 or more. Adding a graphic to your blog header. Update 25 September 2008: The very nice graphic at Guide to Malaysia has been replaced by a leaderboard ad unit from Nuffnang.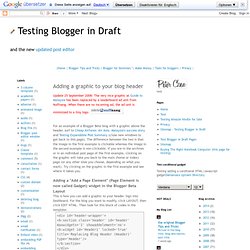 When there are no incoming ad, the ad unit is minimized to a tiny logo For an example of a Blogger Beta blog with a graphic above the header, surf to Cheap Airfares: Air Asia, Malaysia's success story and Testing Expandable Post Summary (close new windows to get back to this page). The difference between the two is that the image in the first example is clickable whereas the image in the second example is non-clickable. If you are in the archives or in an individual post page of the first example, clicking on the graphic will take you back to the main (home or index) page (or any other sites you choose, depending on what you want).
Try clicking on the graphic in the first example and see where it takes you. :: How to Add Google Translator Widget to Your Blog - Blogger Templates. What's you first reaction when you land on a website that's written in Russian, Chinese or Japanese ?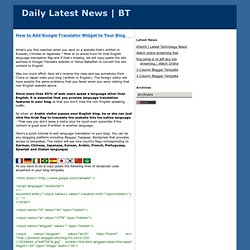 Most of us would hunt for that English language translation flag and if that's missing, we will copy-paste the site address in Google Translate website or Yahoo Babelfish to convert the site content to English. Way too much effort. Now let's reverse the roles and say somebody from China or Japan visits your blog (written in English). The foreign visitor will have exactly the same problems that you faced when you were visiting that non-English website above.
Since more than 65% of web users speak a language other than English, it is essential that you provide language translation features in your blog so that you don't miss the non-English speaking traffic. Using 1 Pixel Out's Wordpress Audio Player In Blogger. While searching for a free solution for hosting some demo clips in my composition portfolio, I found 1 Pixel Out's flash audio player below to be a lightweight and customizable solution.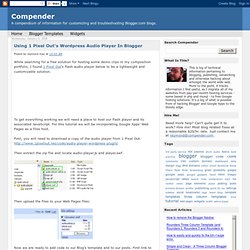 To get everything working we will need a place to host our flash player and its associated JavaScript. For this tutorial we will be incorporating Google Apps' Web Pages as a files host. First, you will need to download a copy of the audio player from 1 Pixel Out: Then extract the zip file and locate audio-player.js and player.swf: How to add CSS Rounded Corners to your Blogger Template. Rounded corners can add a great deal of style to an otherwise simple Blogger template.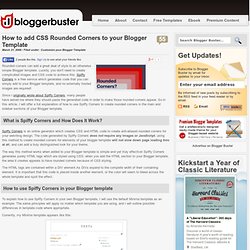 Luckily, you don't need to create complicated images and CSS code to achieve this: Spiffy Corners is a free service which generates code that you can simply add to your Blogger template, and no externally hosted images are required! Since I originally wrote about Spiffy Corners, many people have asked me where they should paste the generated code in order to make those rounded corners appear.
So in this article, I will offer a full explanation of how to use Spiffy Corners to create rounded corners in the main and sidebar sections of your Blogger template. What is Spiffy Corners and How Does It Work? Spiffy Corners is an online generator which creates CSS and HTML code to create anti-aliased rounded corners for your web/blog design. New Blogger Tag Cloud / Label Cloud.
New blogger templates (XML) 3 columns. Free Blogger Skins.
---