Architecture
Inside the magnificent empty spaces of Europe's grandiose palaces. By Beth Stebner Published: 17:39 GMT, 4 October 2012 | Updated: 19:47 GMT, 4 October 2012 They were once filled with courtiers, kings, and other members of the aristocracy.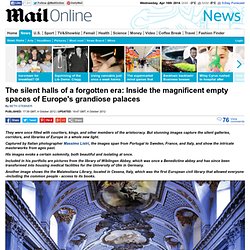 But stunning images capture the silent galleries, corridors, and libraries of Europe in a whole new light. Massimo Listri Home. Quisquis huc accedis quod tibi horridum videtur mihi amoenum est si delecta maneas si taedet abeas utrumque gratum "So his gaze began to seek places and symmetries without particular monumental importance.
A wall, a room, a geometry, the archtype of which, the root of memory of which, was within him rather than in the external history." 25 Bone-Chilling Photos of Abandoned Places. Top of the grand stairwell, Brooklyn Navy Yard Hospital, 2008 Though insane asylums, prisons and hospitals wouldn't necessarily be the first places that come to mind when you're thinking about beautiful places to shoot, you might find photographers Ian Ference and Katherine Westerhout there.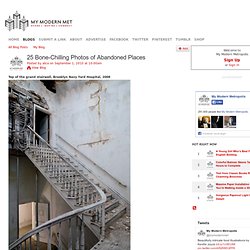 These two have made it their mission to find beauty in the decrepit, stories in the forgotten and stunning imagery where most would never look. While Ian Ference mostly shoots inside abandoned buildings in New York, Westerhout has shot in everywhere from Philadelphia, Buffalo, and Detroit to Southeast Asia. Though most of these photos have that ability to make your skin crawl, you might be surprised at the range of emotions you can feel while looking at them. In fact, you might even ask yourself these questions. 100 Breathtaking Examples of Architecture Photography. Tell us what you think of Ron in this 30 second questionnaire.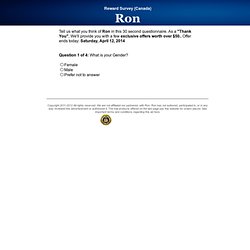 As a "Thank You", We'll provide you with a few exclusive offers worth over $50.. Offer ends today: Saturday, April 12, 2014 Question 1 of 4: What is your Gender? Question 2 of 4: How often do you visit Ron? Cabbage rose.
---