Aquatic Life
Camouflaged sea creatures are revealed in stunning detail. Images were taken by Berkshire-based photographer, Ed Brown, during his visit to the Lembeh Strait in IndonesiaThe area is well-known for muck diving, which allowed Brown to get close to the underwater creaturesOne highlight is the mysterious pygmy seahorse that is shown blending in with the fan coral it lives onOther creatures include a crinoid squat lobster, needle cuttlefish, xenia shrimp, an octopus and a painted frogfish By Ellie Zolfagharifard Published: 13:40 GMT, 5 June 2014 | Updated: 14:02 GMT, 5 June 2014 Away from human eyes, the deep ocean is a world of activity as colourful creatures sweep through icy waters in search of food.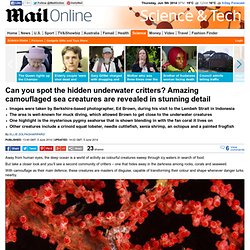 Baby Sand Tiger Sharks Devour Their Siblings While Still in the Womb. VIDEO: Scientist believe they have captured the mysterious Giant Oarfish on camera for the first time. Oarfish can grow up to 50 feet long and weigh as much as 600 poundsLouisiana State University Scientists caught the elusive fish on camera in 2011 but only now published their findingsOarfish live at extreme ocean depths as much as 3,280 feet below the surface By Daily Mail Reporter Published: 00:14 GMT, 9 June 2013 | Updated: 10:25 GMT, 10 June 2013 The giant oarfish, the largest bony fish alive, has finally been caught on camera in its natural environment.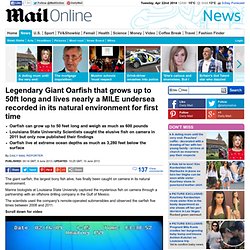 Marine biologists at Louisiana State University captured the mysterious fish on camera through a partnership with an offshore drilling company in the Gulf of Mexico. Could the sea be conscious? Research reveals how tiny plankton behave like marine microbial 'megamind' U.S. researchers find that different forms of picoplankton react as one to environmental changesAlthough as different as humans and fungi, the creatures' behaviour was linkedFindings could help researchers understand why some species are impossible to grow in isolation By Damien Gayle Published: 16:36 GMT, 13 February 2013 | Updated: 17:56 GMT, 13 February 2013 Vastly different species of sea microbes work together to respond as one to their surroundings as if they have one 'megamind', new research has revealed.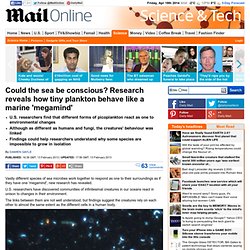 U.S. researchers have discovered communities of infinitesimal creatures in our oceans react in unison to changes in their environment. Japanese scientists discover sea slugs RE-GROW their penis after old one drops off after sex. Chromodoris reticulata slugs have a 'penis-in-waiting' that grows after sex First known creature that can detach its used penis before growing anotherJapanese experts' findings revealed in Royal Society journal Biology Letters By Harriet Arkell Published: 09:54 GMT, 13 February 2013 | Updated: 16:26 GMT, 13 February 2013 The first known instance of creatures growing their own 'disposable penises' has been discovered by researchers after studying the mating habits of sea slugs.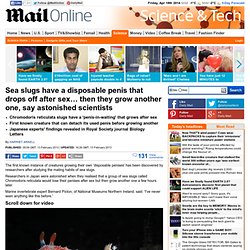 Researchers in Japan were astonished when they realised that a group of sea slugs called Chromodoris reticulata would lose their penises after sex but then grow another one a few hours later. Marine invertebrate expert Bernard Picton, of National Museums Northern Ireland, said: 'I've never seen anything like this before.' The mesmerising patterns of life underwater: Amazing close-up photos show starfish as you've never seen them. Pictures taken by Russian marine biologist Alexander Semenov in the White Sea, the Red Sea and the Sea of JapanThey show starfish skin magnified between 2:1 and 2.5:1 and illuminated by underwater strobe flashThere are over 1,800 living species of starfish, also known as sea stars, occurring in all the oceans of the world By Damien Gayle Published: 11:01 GMT, 7 February 2013 | Updated: 11:03 GMT, 12 February 2013 The subjects of these mesmerising photos seem to glow with an ethereal inner luminescence that is almost out of this world.
Monster Squid: How Discovery scientists captured the elusive Kraken on film for the very first time. By Nina Golgowski Published: 00:54 GMT, 26 January 2013 | Updated: 11:19 GMT, 26 January 2013 For the first time video footage of a giant squid in its natural habitat has been captured by scientists hundreds of meters below the waves after a daring mission previously coursed only by failure.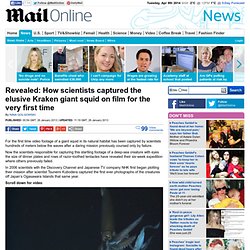 Disco clam creates built-in strobe light show from mantle but California researchers don't know the reasons why. Unique animal spotted on the ocean floor near Wakatobi in IndonesiaEffect caused by reflective cells on its body By Daily Mail Reporter Published: 11:03 GMT, 17 January 2013 | Updated: 13:40 GMT, 17 January 2013 A 'disco clam' has been caught on camera partying on the ocean floor near Wakatobi in Indonesia.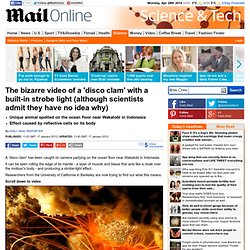 It can be seen rolling the edge of its mantle - a layer of muscle and tissue that acts like a cloak over the mollusc's body - and producing a strobe-light effect. WoRMS - World Register of Marine Species. Biologists putting together ambitious register of sea life say a third of marine species are still unknown to science. Massive survey of marine species suggests there may as many as a different creatures living in our planet's oceansSo far only 226,000 of those have been described by biologists, with another 65,000 in specimen collections awaiting descriptionScientists expect that most of the remainder are smaller crustaceans, molluscs, worms, and sponges and will be identified by the century's end By Damien Gayle Published: 17:22 GMT, 15 November 2012 | Updated: 11:39 GMT, 16 November 2012 A third of the species that inhabit the world's oceans may still be unknown to science, a new study suggests.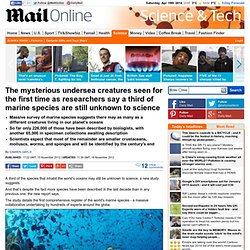 And that's despite the fact more species have been described in the last decade than in any previous one, the new report says. Give us a kiss! The turtle that urinates through its mouth... and is a delicacy in Chinese restaurants. Chinese soft-shelled turtle is the only creature to excrete through its mouthResearchers say it evolved like this to survive in brackish swamp waters By Damien Gayle Published: 11:26 GMT, 11 October 2012 | Updated: 12:35 GMT, 12 October 2012.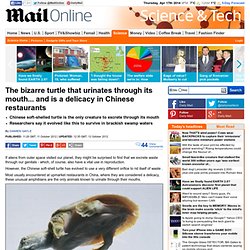 Look At This: A Shrimp Vomits A Glowing Cloud | 80beats. Research ship discovers 1.5 MILLION new species during 'health check-up' of the world's oceans. By Eddie Wrenn Published: 10:00 GMT, 26 September 2012 | Updated: 11:39 GMT, 27 September 2012 A research ship has discovered more than one million new species after trawling through the Atlantic, Pacific, Southern and Indian oceans.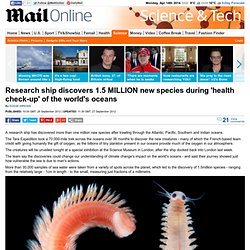 The Tara Expedition took a 70,000-mile trek across the oceans over 36 months to discover the new creatures - many of which the French-based team credit with giving humanity the gift of oxygen, as the billions of tiny plankton present in our oceans provide much of the oxygen in our atmosphere. The creatures will be unveiled tonight at a special exhibition at the Science Museum in London, after the ship docked back into London last week. The team say the discoveries could change our understanding of climate change's impact on the world's oceans - and said their journey showed just how vulnerable the sea is due to man's actions. Monsters of the deep revealed! Sealife that live in almost complete darkness shown in crystal clear images.
By Sara Malm Published: 17:05 GMT, 7 October 2012 | Updated: 08:48 GMT, 8 October 2012 The fangtooth fish, dog-faced witch eel and the deep sea lobster larva may not have the most appealing names, but as these pictures show, they are real beauties in the flesh. Rarely seen by humans, these creatures are normally found thousands of feet below sea level where they live in complete darkness.
The photographs were taken as Californian biologists prepared to examine them at an aquarium in the state. The 'vampire squid from hell' that refuses to kill: Scientists find bizarre animal feeds on plankton and the rotting remains of dead fish. Strange sea creature uses two long filaments to trap debris falling to the ocean floorUnique animal can turn itself inside out when threatened By Mark Prigg Published: 11:36 GMT, 27 September 2012 | Updated: 16:15 GMT, 27 September 2012 Despite being discovered over 100 years ago, the vampire squid has remained one of the ocean's most mysterious animals.
Baby Opalescent Squid – A Beautiful Start to the Week | PsiVid. Photo by Jonathan Wong, Vancouver Aquarium In March of this year, staff at the Vancouver Aquarium became the proud 'parents' of 400 tiny opalescent squid. These tiny cephalopods (a taxonomic group including squid, octopus and cuttlefish) will eventually reach an adult size of 1 foot; however, they are currently no bigger than a grain of rice. The video footage shows the squid babies eating and undertaking some rudimentary jet-propulsive movement – but the most spectacular part of the video is the showcasing of the chromatophores.
Chromatophores are the pigment-containing cells of all cephalopods, and they allow these creatures to become camouflaged in almost any environment. Why dolphins can recognise themselves in a mirror (and do tricks for fish) - they share 'brainy' genes with humans. By Rob Waugh Published: 13:46 GMT, 27 June 2012 | Updated: 13:46 GMT, 27 June 2012 Thanks for all the fish: Bottlenose dolphins are born to be intelligent - and share many of the genes that make them brainy with us.
The bizarre 'unicorn fish,' with a nose, that looks almost human. By Mark Prigg Published: 11:07 GMT, 30 August 2012 | Updated: 22:17 GMT, 30 August 2012 One of the most unique looking fish on the planet, the 'unicorn fish' has a very human feature - an unusually large nose. In fact, its entire head looks uncannily like a disgruntled human face. British scientists create artificial 'muscles' that can copy squid's ability to instantly change colour.
Scientists unravel why giant squids have eyes the size of basketballs. I fought the claw, and the claw won: Scientists unravel mystery of shrimp's super-strong claws to build body armour. Entirely new 'grapefruit-sized' organ found in jaws of giant whales - is it a 'second brain' built to help them eat more? The beautiful monsters of the deep: The jellyfish in Norway which look more like aliens than sea-dwellers. Good job Daddy doesn't like caviar: Rare shot of 'jawfish' shows battle-scarred father carrying the family in his mouth. Overview of the Amphibians Group Video. First evidence that shipping noise stresses whales - life - 08 February 2012. Carbon dioxide encourages risky behaviour in clownfish - life - 15 January 2012. Zoologger: Slime killer hagfish feasts in rotten flesh - life - 27 October 2011.
Deepest known 'black smoker' vent discovered - life - 10 January 2012. Why deep-sea dragonfish have such extraordinary jaws - life - 23 January 2012. Warming seas could smother seafood - environment - 08 September 2011. Giant red crabs invade the Antarctic abyss - environment - 07 September 2011. First recording of deep-water fish chat - life - 31 January 2012. Reef search turns up hundreds of new species - life - 19 September 2008. Copycat cuttlefish may see same illusions as humans. Most fish in the sea evolved on land - life - 08 February 2012. Introduction: Mysteries of the deep sea - life - 04 September 2006. Census of Marine life: A Decade of Discovery. Welcome to OBIS! Ocean Biogeographic Information System.
---