Alzheimer's
People in their 60s are hit hardest by Alzheimer's as it progresses more quickly. May be that patients diagnosed after 80 have some kind of 'resistance' to condition By Claire Bates Published: 12:08 GMT, 3 August 2012 | Updated: 12:12 GMT, 3 August 2012 People who develop Alzheimer's symptoms in their 60s and 70s, are more likely to decline quickly compared to those diagnosed in very old age, researchers say.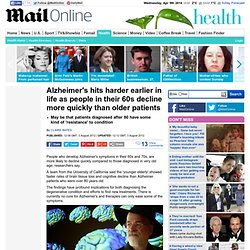 A team from the University of California said the 'younger elderly' showed faster rates of brain tissue loss and cognitive decline than Alzheimer patients who were over 80 years old. The findings have profound implications for both diagnosing the degenerative condition and efforts to find new treatments. MS hope: Alzheimer's disease molecule can actually REVERSE multiple sclerosis, say scientists after shock discovery. Maligned molecule found to have beneficial anti-inflammatory effect By Daily Mail Reporter Published: 10:43 GMT, 3 August 2012 | Updated: 11:11 GMT, 3 August 2012 A molecule that causes Alzheimer's disease could reverse paralysis caused by multiple sclerosis (MS), a study has found.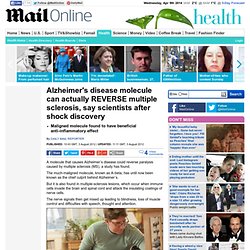 The much-maligned molecule, known as A-beta, has until now been known as the chief culprit behind Alzheimer's. But it is also found in multiple-sclerosis lesions, which occur when immune cells invade the brain and spinal cord and attack the insulating coatings of nerve cells. Protein Tweak May Trigger Alzheimer's. Scientists have caught tiny amounts of a strangely shaped protein — a relative of a well-known suspect in Alzheimer's disease — spreading destruction throughout the brains of mice.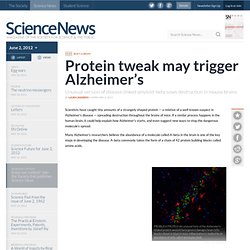 If a similar process happens in the human brain, it could help explain how Alzheimer's starts, and even suggest new ways to stop the dangerous molecule's spread. PROBLEM PROTEIN An unusual form of the Alzheimer's-related protein amyloid beta (green) damages brain cells (nuclei shown in blue) in mice. Inflammation is marked by an abundance of cells called astrocytes (red). Dementia: Can Alzheimer's disease be delayed by a chemical found in PINE CONES? Compound found to prevent formation of plaques that stop brain cells from working effectively in Alzheimer's patients By Claire Bates Published: 09:29 GMT, 2 August 2012 | Updated: 10:21 GMT, 2 August 2012 A once-a-day tablet that harnesses a chemical found in pine cones shows great promise in both preventing and slowing the progress of Alzheimer's disease.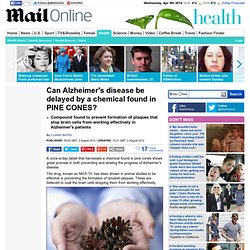 Ten-minute Alzheimer's test to spot disease in earliest stages before brain is badly damaged. By Fiona Macrae Science Correspondent Published: 23:05 GMT, 21 May 2012 | Updated: 23:05 GMT, 21 May 2012 A ten-minute memory test that picks up Alzheimer's disease and other forms of dementia in their earliest stages is available for use in GPs' surgeries from today.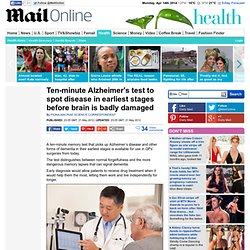 The test distinguishes between normal forgetfulness and the more dangerous memory lapses that can signal dementia. Early diagnosis would allow patients to receive drug treatment when it would help them the most, letting them work and live independently for longer.
---