Charlotteggs09
charlotte guyot-sionnest
Glee. The Black Eyed Peas - My Humps. Youtube. Twitter. Roman. Boîte de réception - charlotteggs. Ecosia - La recherche verte. Les points de collecte. Bibliothèques Sans Frontières collecte chaque année près de 100 000 ouvrages auprès de bibliothèques, d'institutions et d'entreprises.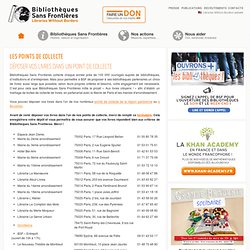 Mais pour permettre à BSF de proposer à ses bibliothèques partenaires un choix de livres aussi large que possible, selon leurs propres critères et besoins, votre engagement est nécessaire. C'est pour cela que Bibliothèques Sans Frontières initie le projet « Aux livres citoyens ! » afin d'établir un maillage de boites de collecte de livres, en partenariat avec la Mairie de Paris et les mairies d'arrondissement. Vous pouvez déposer vos livres dans l'un de nos nombreux points de collecte de la région parisienne ou à Bruxelles. Mobilisation Zéro déforestation en 2020. The most comprehensive twitter app list you'll ever need.
Twitter has become a remarkably diverse tool; what used to be text based has evolved into something greater, incorporating multimedia, links and info far beyond what was originally intended thanks to the creativity of programmers and the twitter community.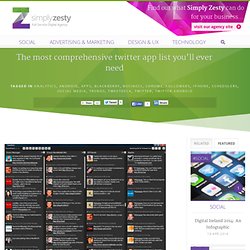 But with so many new apps already available and more being released by the day, trying to discover what useful and what isn't is time consuming. Therefore, we've compiled a list containing over 80 different twitter apps and tools for you to use. Whether you use Twitter for personal or professional purposes, all the apps below will help improve your experience with the micro-blogging site. Radiomee. Mappy - plans, itinéraires, guide d'adresses en Europe. Google. Joseph Kessel. Un article de Wikipédia, l'encyclopédie libre.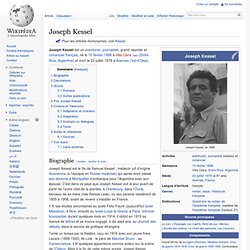 Pour les articles homonymes, voir Kessel. Joseph Kessel. Agenda. Gmail : la messagerie de Google. Layers.com. Sites Like Chrome.Google - Find 25 browser Sites Similar to Chrome.Google.Com. Facebook. Joséphine, ange gardien :
Vidéos Pearltrees
Pearltrees. CINEMUR | Le nouveau réflexe cinéma. Bande Dessinée (BD) "Nicolas" - Style "Kawai" sur Bubblaka.
---