To do lists.
HipCal - it's about time
Important update from the HipCal team HipCal will be shutdown permanently on 2013/01/31. Please backup all your data, as it will be removed shortly after shutdown. Thanks for the great run! Online calendar and todo list never forget where you need to be or what you have to do
Plan, Organize, Store, and Share. Get Zoho Planner
To Do with Bla-bla List: Simple sharable to-do lists. To-do list, todo list, task manager, task list, todo task, easy list, simple todo, free todo list manager.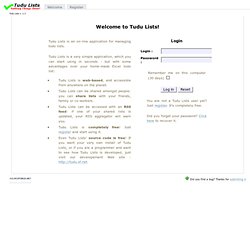 Tudu Lists is an on-line application for managing todo lists. Tudu Lists is a very simple application, which you can start using in seconds - but with some advantages over your home-made Excel todo list: Tudu Lists is web-based, and accessible from anywhere on the planet.
Tudu Lists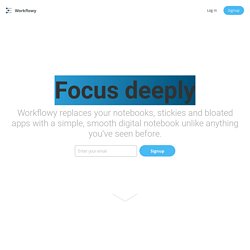 WorkFlowy has become one of three tabs that I keep open in my browser, along with Gmail and Google Calendar. ~ Matt Cutts Head of Webspam, Google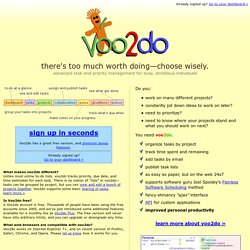 What makes voo2do different? Unlike most online to-do lists, voo2do tracks priority, due date, and time estimates for each task. There is no notion of "lists" in voo2do— tasks can be grouped by project, but you can view and edit a bunch of projects together. Voo2do supports some basic sharing of tasks. learn more » Is Voo2do free? A Voo2do account is free.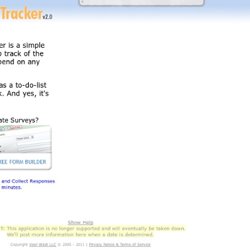 Time Tracker - a Time Management Solution Save in progress... Time Tracker is a simple tool to keep track of the time you spend on any task. Think of it as a to-do-list with a clock. And yes, it's free .
TaskTHIS :: Home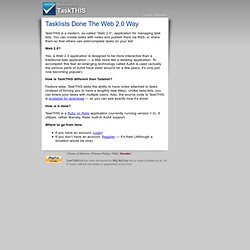 TaskTHIS is a modern, so-called "Web 2.0", application for managing task lists. You can create tasks with notes and publish them via RSS, or share them so that others can add/complete tasks on your list! Web 2.0? Yes, a Web 2.0 application is designed to be more interactive than a traditional web application — a little more like a desktop application. To accomplish this feat an emerging technology called AJAX is used (actually the various parts of AJAX have been around for a few years, it's only just now becoming popular). How is TaskTHIS different than Tadalist?
Organize Your Tasks. Use folders, tags, contexts, subtasks and more to organize, search and sort through your tasks. Improve Your Productivity. Toodledo's hotlist, customizable alarms, and sortable online to-do list will help you remember to complete tasks on-time. Go Anywhere.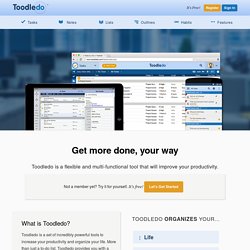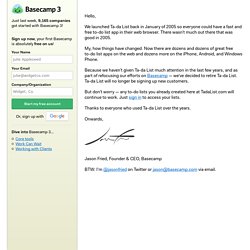 Hello, We launched Ta-da List back in January of 2005 so everyone could have a fast and free to-do list app in their web browser. There wasn't much out there that was good in 2005. My, how things have changed.
Walnote - keep your online notes secure