To do lists.
HipCal - it's about time
Plan, Organize, Store, and Share. Get Zoho Planner
To Do with Bla-bla List: Simple sharable to-do lists. To-do list, todo list, task manager, task list, todo task, easy list, simple todo, free todo list manager.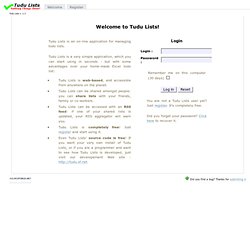 Tudu Lists is an on-line application for managing todo lists. Tudu Lists is a very simple application, which you can start using in seconds - but with some advantages over your home-made Excel todo list: Tudu Lists is web-based, and accessible from anywhere on the planet.
Tudu Lists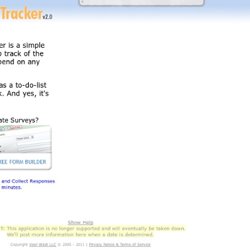 Time Tracker - a Time Management Solution
TaskTHIS :: Home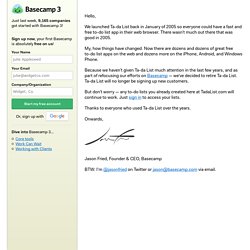 Hello, We launched Ta-da List back in January of 2005 so everyone could have a fast and free to-do list app in their web browser. There wasn't much out there that was good in 2005. My, how things have changed.
Walnote - keep your online notes secure
Login Be more productive! Questions