Wedding
A Practical Wedding: Ideas for Unique, DIY, and Budget Wedding Planning. Wedding Ideas & Tips, Wedding Blog - 100 Layer Cake. Question, cakies: Is there any city in the world more romantic than Paris?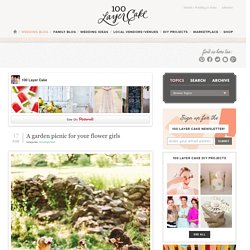 Guess that was kind of a rhetorical question, because we all know the answer. Cozbi + Nicholas know what's up. These two wanted to celebrate their anniversary in a big way, so they jetted off from Seattle to Paris, where they also spent their honeymoon six years earlier. Cozbi fashioned a bouquet out of flowers from a nearby market; they made a picnic of macaroons, cheeses, crackers, and Champagne; and set off for a sunset stroll with Karen Kristian Photography in tow. From Cozbi… Now that I'm a wedding photographer I've seen how uniquely intimate and special a wedding celebration can be. The Pretty Blog | Wedding Blog South Africa | Wedding Venues | Wedding Inspiration. Le blog organiser un mariage - Part 11. Du rouge, du rose, du liberty, des pois… voici un diy pour réaliser un plan de table avec des jolis coeurs suspendus.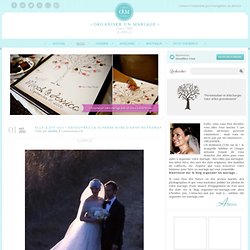 Matériel nécessaire : une toile blanche , des épingles à nourrice ou des épingles, du ruban, des perles, des coeurs à imprimer Etape 1: Imprimez et découpez les coeurs Etape 2: Découpez un morceau de papier que vous pouvez découper comme vous souhaitez. pour inscrire les prénoms des invités.
Un beau jour - Mariage original, pacs, organisation, déco. Mariages rétro. Design*Sponge » Blog Archive » weekly wrap up + california wedding. This has been a week of such happiness, good news and exciting new things that I couldn't resist ending with another happy day: the wedding of two designers in California.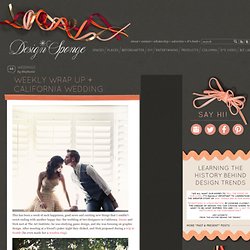 Danni and Nick met at The Art Institute; he was studying game design, and she was focusing on graphic design. After meeting at a friend's poker night they clicked, and Nick proposed during a trip to Seattle (he even made her a wooden ring). For the big day, Danni and Nick chose to get married on their five-year anniversary of dating at a park in Fullerton, California, where they had their first date. What I love so much about their big day is that they actually reversed their wedding schedule to have the reception first because they wanted to get married at sunset. So at 4pm, guests gathered and everyone shared a picnic basket lunch together. LA MARIEE AUX PIEDS NUS. Style Me Pretty - The Ultimate Wedding Blog.
15 Years of Great Wedding Ideas. If you're as big on nostalgia as we are, you know that infusing your wedding with family treasures not only enhances its meaning -- after all, by taking part in an age-old tradition, you're following in the footsteps of many brides before you -- but it adds an extra layer of romance, too.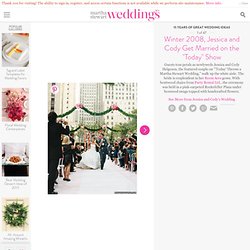 Unique items that have been passed down for generations lend a sentimental vibe that can't be duplicated anywhere else. And let's not forget how perfectly they fulfill that all-important tradition of wearing something borrowed, too, such as this bouquet affixed with an antique locket, like this one from Jessica Thomas Jewelry.
---