Podcasting
Podcasting in Plain English - Common Craft - Our Product is Explanation. Remember the good old days of TV and radio?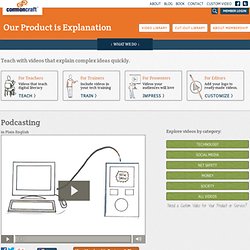 Everyone would gather around to be entertained. Shows were broadcast at specific times and if you weren't there on time, you missed it <boo>. Broadcasts disappeared into the ether. Well, things have changed. Here's the big idea. Podcasts: The Big 6: An Active Listening Skill Set. What does it take to be a good listener?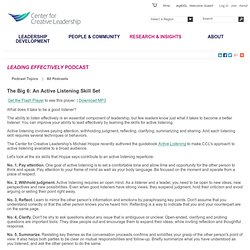 The ability to listen effectively is an essential component of leadership, but few leaders know just what it takes to become a better listener. You can improve your ability to lead effectively by learning the skills for active listening. Active listening involves paying attention, withholding judgment, reflecting, clarifying, summarizing and sharing. And each listening skill requires several techniques or behaviors. The Center for Creative Leadership's Michael Hoppe recently authored the guidebook Active Listening to make CCL's approach to active listening available to a broad audience.
Podcast Directory. Podcasts.
---