XP_TWEAK_GUIDES
""Disable Paging Executive" 10 Simple Ways To Speed Up Windows XP | Connected Internet. Update: If you are using Windows Vista or Windows 7, then then check out these posts (Vista, Windows 7).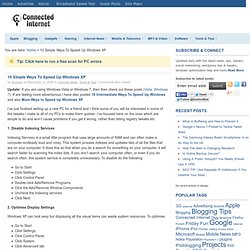 If are feeling more adventurous I have also posted 10 Intermediate Ways To Speed Up Windows and also More Ways to Speed Up Windows XP I've just finished setting up a new PC for a friend and I think some of you will be interested in some of the tweaks I make to all of my PCs to make them quicker. Winxp tweak tweak xp windows xp tweaks tweak-xp xp tweak win XP tweak. Computer memory and cache optimization, tuneup and internet utility software. Eudora Forums - How do I Backup Eudora? Originally Posted by I've used Eudora for years in Microsoft environment.
And I've thought that I've been backing up my emails. (I've never had to restore, so I'm not sure that I've actually backed up) I'm wondering if I've only backed up the Eudora program. I use Iomega Zip disk to back up. Advanced XP Tweak - Tweak hidden Windows XP performance settings. The Complete Guide To Optimising Windows XP | Connected Internet. Make Your Menus Load Faster This is one of my favourite tweaks as it makes a huge difference to how fast your machine will 'feel'.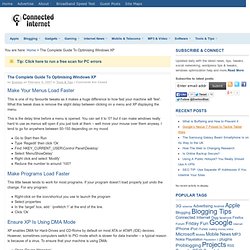 What this tweak does is remove the slight delay between clicking on a menu and XP displaying the menu. This is the delay time before a menu is opened. You can set it to '0? But it can make windows really hard to use as menus will open if you just look at them – well move your mouse over them anyway. XP Tweaks - Increase Windows XP Perfomance WinXP. #1 - MsConfig Most of you will be familiar with MsConfig, which is basically a built-in system configuration utility for Windows.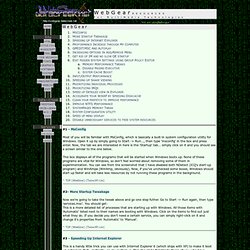 Open it up by simply going to Start -> Run..., then type 'msconfig' in the box and press enter. Now, the tab we are interested in here is the 'Startup' tab... simply click on it and you should see a screen similar to the one below.
---