Videogames
Keith Schofield / Wintergreen
The Independent Gaming Source's (Opinionated) Guide to Indie Games
PC Gaming - Game Reviews, Screenshots, Demos and more!
. The ultimate Space Invaders Shrine The Classic Arcade Videogame .
What were arcades like? - RPGnet Forums
ABC Good Game - Video
XP Games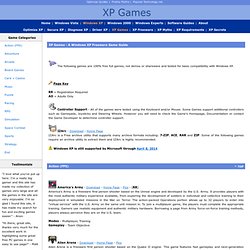 The following games are 100% free full games, not demos or shareware and tested for basic compatibility with Windows XP.