Space
Mars. Applets. Mission. Cosmology. Welcome to Heavens-Above! SpaceRef - Space News As It Happens. Space-shuttle-cockpit1.jpg (JPEG Image, 3014×2000 pixels) - Scaled (41%) NEWS - Astronomy Australia. Space, Science, Health, and Technology News and Information. University of London Observatory Mars Observations - 2003. (South is up in all images) 2003 September 29, UT 2003 Telescope: Fry 8-inch refractor Camera:Astrovid Planetcam colour video CCD Observers:Dr.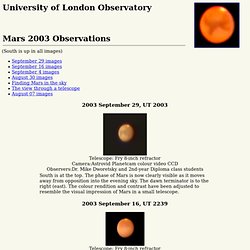 Mike Dworetsky and 2nd-year Diploma class students 2003 September 16, UT 2239. National Radio Astronomy Observatory, Charlottesville. NASA Seeks Suggestions for Mars Photos SpaceRef - Your Space Reference. Earth comes closer to Mars this month than it has in nearly 60,000 years, but one new opportunity for seeing details on the red planet comes from a vantage point much closer.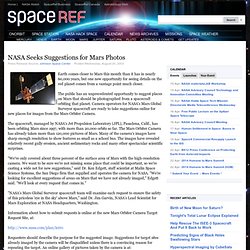 The public has an unprecedented opportunity to suggest places on Mars that should be photographed from a spacecraft orbiting that planet. Camera operators for NASA's Mars Global Surveyor spacecraft are ready to take suggestions online for new places for images from the Mars Orbiter Camera. Australia Telescope National Facility.
---