Scan
Jotti's malware scan is a free online service that enables you to scan suspicious files with several anti-virus programs. Scanners used are Linux versions; detection differences with Windows versions of the same scanners may occur due to implementation differences. There is a 25MB limit per file.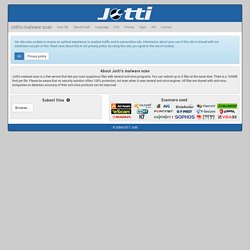 Free Online Virus and Malware Scan - Email/Uploader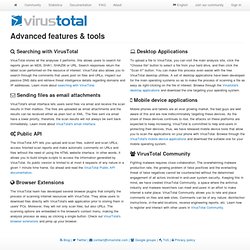 Searching with VirusTotal VirusTotal stores all the analyses it performs, this allows users to search for reports given an MD5, SHA1, SHA256 or URL. Search responses return the latest scan performed on the resource of interest. VirusTotal also allows you to search through the comments that users post on files and URLs, inspect our passive DNS data and retrieve threat intelligence details regarding domains and IP addresses. Learn more about searching with VirusTotal.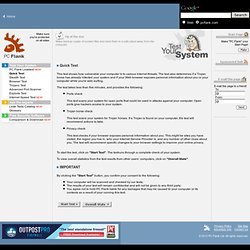 Quick Test This test shows how vulnerable your computer is to various Internet threats. The test also determines if a Trojan horse has already infected your system and if your Web browser exposes personal information about you or your computer while you're web surfing.
PC Flank
Spy Audit
for a limited time only35%OFFselect productsProtect Yourself and Your New Device"No other antivirus product comes close." - PCMag5 out of 5 stars Another pleased custome..."I am very pleased with Webroot. Its the best software I've purchased."01/20/14 6:14:47 MST Read more »5 out of 5 stars Great company"When I got Webroot a virus had control of my browser and other programs. A Tech at webroot remotely ..."01/20/14 12:05:35 MST Read more » 1 of 2