Registry_Tools
RegMagik
Reg Organizer
Reg Organizer® is a feature-rich application for Windows XP, Vista, 7, and 8 designed to edit, clean and maintain registry, fix errors in the system, and improve computer performance. The deep registry search feature lets you find all registry keys related to a specific application. The program helps you to edit registry files (.reg) and view their content directly from Windows Explorer.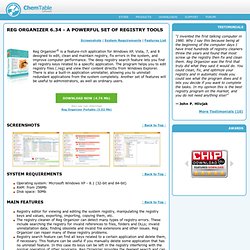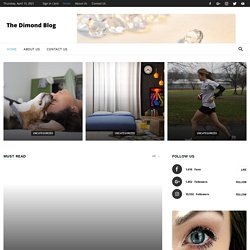 RegistryProt
Webroot Anti-Virus with Spy Sweeper 2011 This anti-virus software is a very powerful protection against viruses, rootkits, key loggers, spyware and many other online threats. It has an advanced detection technology that thoroughly scans your computer. This way, it can remove programs that may be harmful to your computer.
February 18 2014 Released RegRun Security Suite 7.1.0.134Full version is available for download. Update is free for registered users Released RegRun Reanimator 7.1.0.134 - free software for detecting and removing rootkits & malware.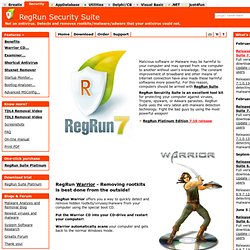 RegRun III Suite
RegShot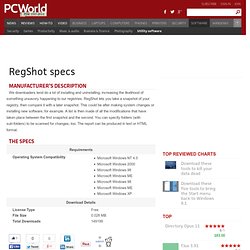 Manufacturer's Description We downloaders tend do a lot of installing and uninstalling, increasing the likelihood of something unsavory happening to our registries. RegShot lets you take a snapshot of your registry, then compare it with a later snapshot. This could be after making system changes or installing new software, for example.
Windows Registry Guide
UNDOReg
Open RegEdit
RegEditX
Registry Mechanic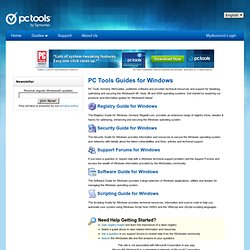 PC Tools, formerly WinGuides, publishes software and provides technical resources and support for tweaking, optimizing and securing the Windows® XP, Vista, 98 and 2000 operating systems. Get started by exploring our products and information guides for Windows® below! Registry Guide for Windows
Bookmark and manage registry keys Tucows: ZDNet "5 Star" What does it do for me? Jump to registry keys from a tray icon! This is a surprisingly useful tool.
Jump Reg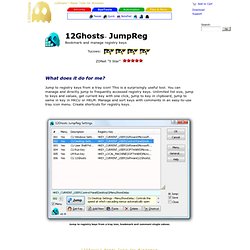 ERUNT and NTREGOPT
Description of the registry The Microsoft Computer Dictionary, Fifth Edition, defines the registry as: A central hierarchical database used in Microsoft Windows 98, Windows CE, Windows NT, and Windows 2000 used to store information that is necessary to configure the system for one or more users, applications and hardware devices. The Registry contains information that Windows continually references during operation, such as profiles for each user, the applications installed on the computer and the types of documents that each can create, property sheet settings for folders and application icons, what hardware exists on the system, and the ports that are being used. The Registry replaces most of the text-based .ini files that are used in Windows 3.x and MS-DOS configuration files, such as the Autoexec.bat and Config.sys. Although the Registry is common to several Windows operating systems, there are some differences among them.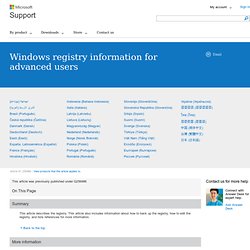 Registry Description
RegSafe
dows Registry Tips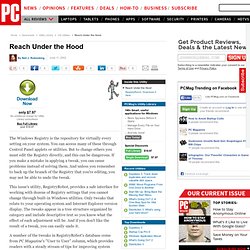 The Windows Registry is the repository for virtually every setting on your system. You can access many of these through Control Panel applets or utilities. But to change others you must edit the Registry directly, and this can be dangerous. If you make a mistake in applying a tweak, you can cause problems instead of solving them.
RegistryRobot
Registrar Lite
RegHance
Registry Commander
WAssociate
About Active Registry Monitor Active Registry Monitor (ARM) is an utility designed for analyzing the changes made to Windows Registry - by making the "snapshots" of it and keeping them in the browsable database. You can compare any two snapshots and get the list of keys/data which are new, deleted or just changed. ARM can do comparing not only in the entire Registry, but also in any key of the Registry. It is also possible to exclude any keys of the Registry from compare results.
Active Registry Monitor