Nerds_On_Site
Get flash to fully experience Pearltrees
Process Tamer is a tiny (140k) and super efficient utility for Microsoft Windows XP/2K/NT/Vista/Win7 that runs in your system tray and constantly monitors the cpu usage of other processes. When it sees a process that is overloading your cpu, it reduces the priority of that process temporarily, until its cpu usage returns to a reasonable level.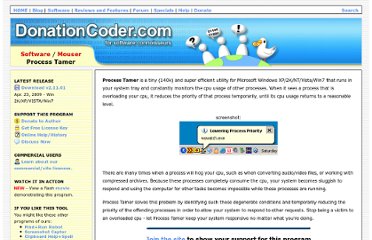 xp_emegencyutil.exe - Creates usable copies of REGEDIT, MSCONFIG and Task Manager v1.2 - 07/26/2004 © Doug Knox This small VB 6 utility will create a usable backup copy of Taskmgr.exe, MSConfig.exe and Regedit.EXE in a new folder, called C:\EmergencyUtils.
See Also USB over Ethernet - USB Network Gate enables work with the remote USB devices over Ethernet (Internet/LAN/WAN) as if they were plugged into your own machine.