Mac_Software_Links
NeoOffice is a complete office suite for Mac OS X. With NeoOffice, users can create and edit text documents, spreadsheets, and presentations. NeoOffice can open OpenOffice documents. NeoOffice can also open most Microsoft Word, Excel, and PowerPoint documents. NeoOffice is extremely stable and thousands of users use it daily.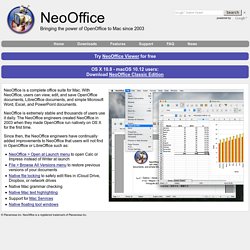 OSX
Mac Best Software list
[Open Source Mac http://downloadpedia.org/Open_Source_Mac#mw-head ] Contents [hide] 1.
Open Source Mac