Mac_Software_Links
NeoOffice is a complete set of office applications for Mac OS X. With NeoOffice, users can create and edit spreadsheets, text documents, and presentations. NeoOffice can also import most Excel, Word, and PowerPoint documents. NeoOffice is based on the OpenOffice office productivity software. Since 2003, the NeoOffice engineers - Patrick Luby and Ed Peterlin - have taken the OpenOffice code and have continually added improvements to NeoOffice that users will not find in OpenOffice or LibreOffice such as: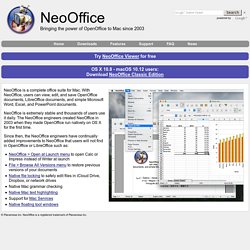 OSX
Mac Best Software list
[Open Source Mac http://downloadpedia.org/Open_Source_Mac#mw-head ] Contents [hide] 1.
Open Source Mac