File_Conversion
Posted by nitzan on Wednesday, September 5th, 2007 Mega Tools There are lots of specialized tools out there, but sometimes you just need one good tool to get the job done. These mega tools are great for general conversions.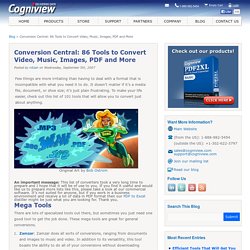 Online Youtube Converter - Convert Online flv Youtube Videos direct to PC, iPod, PSP, iPhone, mp3, mp4 and Mobile.
Main Page
TIPS FOR LINUX EXPLORERSHelpful info for those learning Linux These Linux tips are meant to provide just enough information to whet your appetite for more. They are updated frequently and are not presented in any particular order. There is a site-search box at the end of this page.. . . . . . .