Editor
Debug. Notepad. Csv. UltraEdit32. .:: NOTEPAD++ ::. Advanced Hex Editor. Cygnus Hex Editor. Cygnus Hex Editor is a powerful file editor for Microsoft Windows.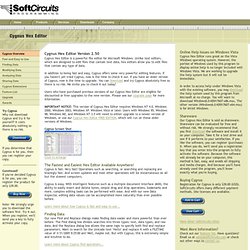 Unlike text editors, which are designed to edit files that contain text data, hex editors allow you to edit files that contain any type of data. In addition to being fast and easy, Cygnus offers some very powerful editing features. Hex Workshop. Hexplorer. HEXtreme. PitPad. XVI32 Hex Editor. [Overview] [Features] [What's New] [Screenshots] [User Reviews] [Download] [Installation] [Other Freeware] [Home] Overview XVI32 is a freeware hex editor running under Windows 9x/NT/2000/XP/Vista/7.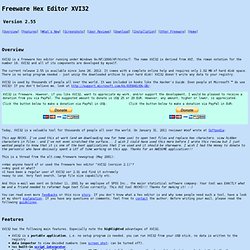 The name XVI32 is derived from XVI, the roman notation for the number 16. XVI32 and all of its components are developed by myself.
---