Editor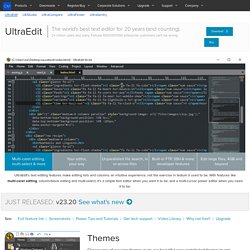 Simply the world's best text editor. UltraEdit does text. With its powerful find and replace, highly configurable syntax highlighting for hundreds of languages, and column/block mode editing, you'll never need another editor. UltraEdit is the only editor that includes free integrated FTP/SFTP client and a file compare app. Web development has never been easer.
UltraEdit32
Skip to main content About Notepad++ is a free (as in "free speech" and also as in "free beer") source code editor and Notepad replacement that supports several languages. Running in the MS Windows environment, its use is governed by GPL License.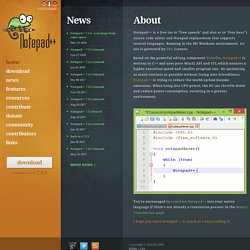 Advanced Hex Editor
Cygnus Hex Editor is a powerful file editor for Microsoft Windows. Unlike text editors, which are designed to edit files that contain text data, hex editors allow you to edit files that contain any type of data. In addition to being fast and easy, Cygnus offers some very powerful editing features.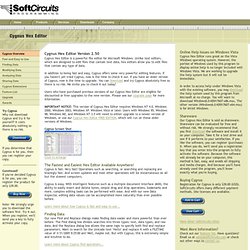 Cygnus Hex Editor
The Hex Workshop Hex Editor by BreakPoint Software is a complete set of hexadecimal development tools for Microsoft Windows. Hex Workshop integrates advanced binary editing and data interpretation and visualization with the ease and flexibility of a modern word processor. With the Hex Workshop, you can edit, cut, copy, paste, insert, fill and delete binary data. You can also work with data in its native structure and data types using our integrated structure viewer and smart bookmarks. Data editing is quick and easy with our extensive features that allow you to: jump to file or sector location, find or replace data, perform arithmetic, bitwise, and logical operations, binary compare files, generate checksums and digests, view character distributions and export data to RTF or HTML for publishing.
Hex Workshop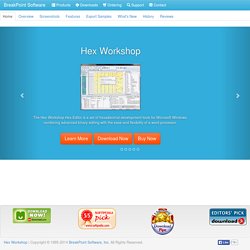 Hexplorer
HEXtreme
DreamSys Software Home DreamSys Software is a software development company specializing in tcp/ip and winsock applications. Since 1997 we have been developing customized network solutions and software.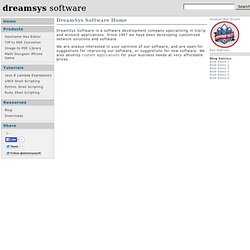 PitPad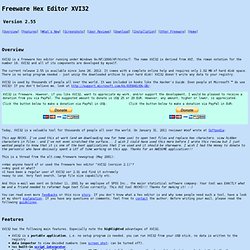 [Overview] [Features] [What's New] [Screenshots] [User Reviews] [Download] [Installation] [Other Freeware] [Home] Overview XVI32 is a freeware hex editor running under Windows 9x/NT/2000/XP/Vista/7. The name XVI32 is derived from XVI, the roman notation for the number 16. XVI32 and all of its components are developed by myself.