Desktop_Tools
Dev note: Send us your suggestions for the upcoming version. AutoSizer automatically resizes programs for you, keeping them at a specific size or keeping them maximized. One popular use is to keep Internet Explorer maximized when you go on the web. It works with most software programs, and supports maximizing to specific monitors on multi-monitor computers. Use the handy Always On Top system tray menu to quickly position specific programs above all others.
AutoSizer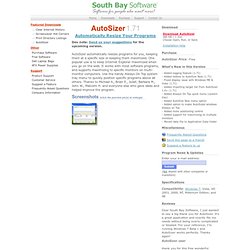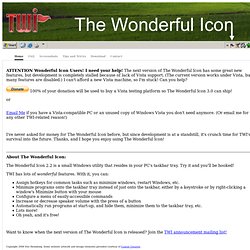 ATTENTION Wonderful Icon Users! I need your help! The next version of The Wonderful Icon has some great new features, but development is completely stalled because of lack of Vista support. (The current version works under Vista, but many features are disabled.) I can't afford a new Vista machine, so I'm stuck! Can you help?
Wonderful Icon
TrayMin
WorldTV
Push the Freakin' Button
XpanDesk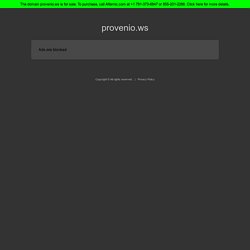 *Buy a new .COM, get one new .INFO for FREE for 1st year only. Not valid on renewals or transfers. Plus ICANN fee of 18¢ per domain per year. † Good for one 1-year registration of any available .COM, .US, .BIZ, .INFO, .NET or .ORG **New .COs, first year only. Offer ends 5/31/2012. ‡ Annual discounts available on NEW purchases only. GoDaddy.com is the world's No. 1 ICANN-accredited domain name registrar for .COM, .NET, .ORG, .INFO, .BIZ and .US domain extensions.
Say the Time
WinTidy 2
WinTidy 2 lets you organize your Desktop and keep it organized. Don't you hate it when someone sitting at your desk moves the pencil jar or hides the stapler? If things aren't where you expect them to be, you can't work as efficiently. It's the same when the icons on your Windows Desktop are moved out of place. When you switch to a smaller screen size, for example, Windows shoves the off-screen icons into view, but doesn't put them back off-screen when you revert to a larger screen size. This issue's utility, WinTidy 2, remembers your Desktop layout and restores it for you.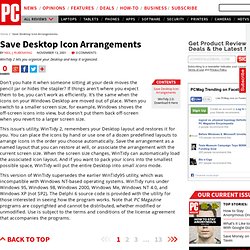 Weather Watcher
Change color depth and resolution, even toggle your screen saver—all from a tray icon. Computer monitors can operate in many different video modes. In most cases, the decision about how many pixels and colors to display is yours—but not always. You may, for example, want to run some particularly picky programs (games mostly) that require your system to be set to a particular resolution and color capability. The standard way to change the video mode in Windows is rather clumsy. Before you can set the desired resolution and color depth, you have to open the Display Properties dialog box—the same dialog box you use to change your wallpaper and screen saver ( Figure 1 ).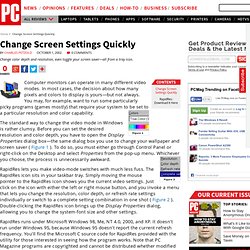 RapidRes
PersonalReminder
RSS Feed January 15th Photo Print Pilot 2.1.3Qick and easy printing of graphic images on your printer January 9th Form Pilot for Mac 3.1.1Software for filling in paper forms
Tray Pilot Lite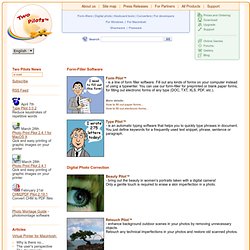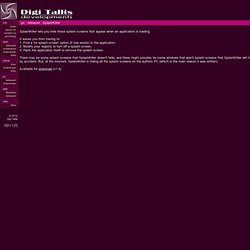 SplashKiller lets you hide those splash screens that appear when an application is loading. It saves you from having to:1. Find a 'no splash screen' option (if one exists) in the application.2. Modify your registry to turn off a splash screen.3. Hack the application itself to remove the splash screen.
SplashKiller
StickIt
TrayBar
"SKEPP it heeft ruim 10 jaar ervaring op gebied van software-ontwikkeling en is gespecialiseerd in op maat gemaakte software, webapplicaties, websites en apps voor mobiele apparaten. SKEPP it werkt o.a. nauw samen met partners SKEPP design+build, SKEPP online en SKEPP pitch." PHP5 HTML5 CSS3 Javascript MySQL MariaDB Augmented Reality jQuery C++ OpenGL DirectX IRRLICHT
Yankee Clipper III
RefreshEm
UNLOCK
TapeCalc 2
Quick Menu
Transparent
Memento is about 345k and does pretty much everything with little desktop notes that I want it to do. The emphasis is on being convenient, unobtrusive, and easy to use. I hope you find it useful too.
Memento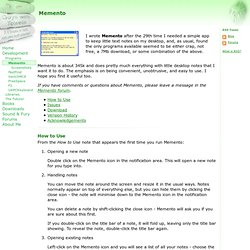 H-Menu
Hot Corners
FastRes
OneButton
ButtonBoogie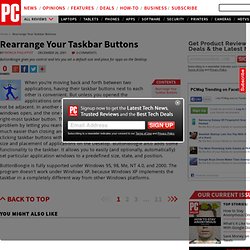 ButtonBoogie gives you control and lets you set a default size and place for apps on the Desktop. When you're moving back and forth between two applications, having their taskbar buttons next to each other is convenient. But unless you opened the applications one right after the other, their buttons will not be adjacent. In another case, you may have several browser windows open, and the one on the left is associated with the right-most taskbar button. This can be confusing!
Macro Recorder
Kana Reminder
Desk Marker
Welcome to DeskMarker.com Learn more: Which is the current version?
ArtTray
Deprecated: Function ereg() is deprecated in /home/keywalle/public_html/counter.php on line 16 Deprecated: Function ereg() is deprecated in /home/keywalle/public_html/counter.php on line 16 Deprecated: Function ereg() is deprecated in /home/keywalle/public_html/counter.php on line 26 Deprecated: Function ereg() is deprecated in /home/keywalle/public_html/counter.php on line 27 Deprecated: Function ereg() is deprecated in /home/keywalle/public_html/counter.php on line 28
KeyWallet
HelioBar XP