Cool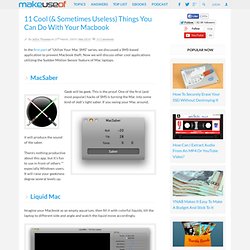 In the first part of "Utilize Your Mac SMS" series, we discussed a SMS-based application to prevent Macbook theft. Now we will discuss other cool applications utilizing the Sudden Motion Sensor feature of Mac laptops. MacSaber Geek will be geek. This is the proof.
11 Cool (& Sometimes Useless) Things You Can Do With Your Macbook | MakeUseOf.com
Swiss MSDN Team Blog : Microsoft Surface Computer Unboxing!
The first Microsoft Surface computer has arrived in Switzerland! And as a team of committed gadget blog readers (officially in denial, of course), we decided to do a photo unboxing story. This is the box – rather crate – that awaited us in the post office: