Bookmarksmenu
Help and Tutorials. Get Bookmark Add-ons. Customize Firefox. Get Involved. Helping Users Our support process relies on enthusiastic contributors like you to help others get the most out of Mozilla products.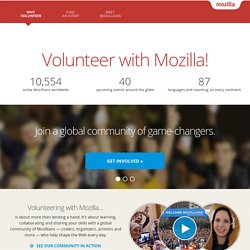 Find out more about how to help Firefox users and how to help Thunderbird users. Quality Assurance Quality assurance testing is one of the easiest ways to get started with Mozilla and is a great way to get familiar with our code and tools. Help us hunt down bugs in Firefox, test Mozilla web sites or learn more about other testing opportunities. About Us. Learn more about our projects, products and principles designed to help people take control and explore the full potential of their lives online.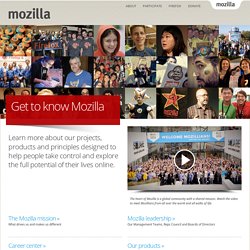 Play video The Mozilla mission What drives us and makes us different Career center Want to work on Firefox? Apply today! Mozilla blog News, notes and ramblings from the Mozilla project Mozilla style guide Logos, copy rules, visual assets and more Locations & contacts Addresses, emails, support and feedback forms Our products An overview of what we make and what we're working on Get involved Become a volunteer contributor in a number of different areas Press center Press info and other useful stuff Privacy center How Mozilla handles your personal information Mozilla partnerships Details about partnering with us.
Firefox web browser & Thunderbird email client. Customise Firefox. Help and Tutorials. Firefox Help: Tips & Tricks. Firebird. Current Release Firefox 2 (October 24, 2006) Archived Releases.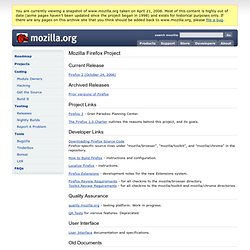 ---