AntiVirus_Tools
Panda Antivirus Platinum. Wildlist Organization International. Virus Information Center. Home Edition. RAV Antivirus Desktop. PQRemove. Anti-Virus for DOS. Tools and instructions for manually downloading definition database for F-Secure products for both Windows and Linux.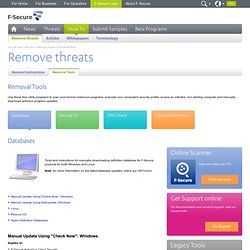 Note: for more information on the latest database updates, check our DBTracker. Manual Update Using "Check Now": Windows Applies to: F-Secure Anti-Virus Client Security F-Secure Anti-Virus for Workstations F-Secure Protection Service for Business (PSB) Workstation Security F-Secure Anti-Virus 20xx F-Secure Internet Security 20xx. AVERT Virus Alerts. Trend Micro - Virus Map. Connect with our security intelligence community.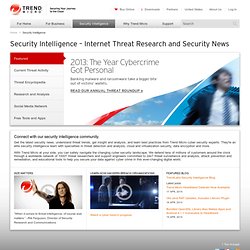 Get the latest security news, understand threat trends, get insight and analysis, and learn best practices from Trend Micro cyber security experts. They're an elite security intelligence team with specialties in threat detection and analysis, cloud and virtualization security, data encryption and more. eTrust EZ Antivirus. Browse by Role Application Developer or Architect CIO or IT Executive Customer Experience & Support IT Operations.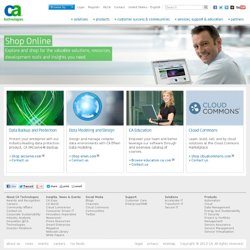 Sophos Anti-Virus. Gladiator AntiVirus. ActiveScan. McAfee VirusScan Home Edition. Protector Plus. PC-cillin. Stinger. Virus Information Library. Command AntiVirus. The page you are looking for might have been removed, had its name changed, or is temporarily unavailable.
Please try the following: Make sure that the Web site address displayed in the address bar of your browser is spelled and formatted correctly. If you reached this page by clicking a link, contact the Web site administrator to alert them that the link is incorrectly formatted. Click the Back button to try another link. Technical Information (for support personnel) AV Comparative Review. Covering the global threat landscape current user: none (login | register) Home » VB100 » Archive.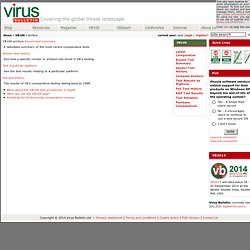 Basic. Computer Viruses. What is a computer virus?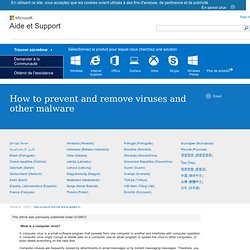 A computer virus is a small software program that spreads from one computer to another and interferes with computer operation. A computer virus might corrupt or delete data on a computer, use an email program to spread the virus to other computers, or even delete everything on the hard disk. Computer viruses are frequently spread by attachments in email messages or by instant messaging messages. Therefore, you must never open an email attachment unless you know who sent the message or you are expecting the email attachment. Viruses can be disguised as attachments of funny images, greeting cards, or audio and video files.
ScripTrap. Scripts are small programs that are written in a variety of simple computer languages.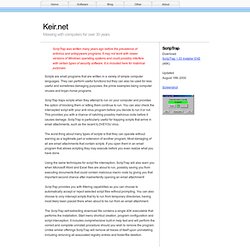 They can perform useful functions but they can also be used for less useful and sometimes damaging purposes, the prime examples being computer viruses and trojan-horse programs. ScripTrap traps scripts when they attempt to run on your computer and provides the option of blocking them or letting them continue to run. Sentinel. BART Rider is my second Windows Phone 7 application, and I think you'll agree that it looks and performs great!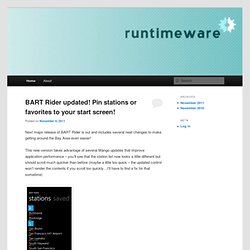 For those of you who may not be familiar with BART, it represents the "Bay Area Rapid Transit" system and it is how a lot of people commute in and out of the Bay Area. BART has a great API that is open for developers to play around with and develop applications. It's fast, real easy to use and a perfect example of how real, useful services can be consumed on a portable device. So all you developers out there, visit and start developing now! BART Rider was developed over a period of about two weeks and includes most of the desired features from the BART api. Kaspersky AntiVirus Personal. AVG Anti-Virus. Norton Antivirus. AntiVir PE. Free Online Virus Scan. F-Secure Anti-Virus. You are here: Products F-Secure SAFE Cloud-based, real-time protection against all online threats Worry-free surfing, banking and shopping online Protects your children when they are online For computers, smartphones and tablets From 49,90 €/year (try 30 days for free) F-Secure INTERNET SECURITY.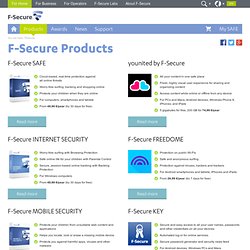 NOD32. Panda Antivirus Titanium.
---
sutt2m Mar 15 2011

Dont forget Microsoft SE.... AVG Missed 10-20 but MSE Picked them up !
---