Energy Gel / Drinks
Last updated: 1/2/2010 HOMEMADE RECIPES snacks and energy bars
CYCLING PERFORMANCE TIPS -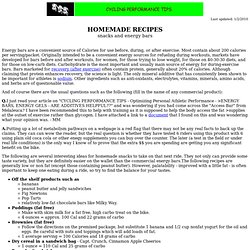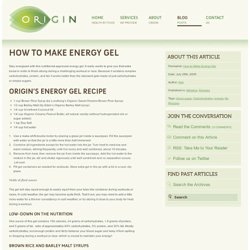 Stay energized with this nutritionist-approved energy gel.
How to Make Energy Gel for Athletes | Origin Nutrition
Energy Gel Recipe
Have you ever built a huge camp fire while you're out camping with friends or family and stepped back with an admiring look on your face and exclaimed "Now that's a fire"? Or upon building what you deem is the world's best sandwich you say out loud for all to envy "That's what I call a sandwich".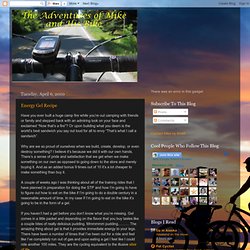 Homemade Energy Gels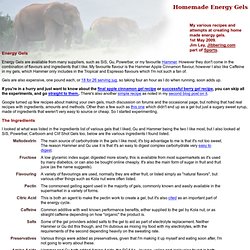 My various recipes and attempts at creating home made energy gels. 1st May 2009.
I'm a regular guy who likes to ride, race and tinker with mountain bikes. I also have the urge (since childhood) to take stuff apart to see how it works.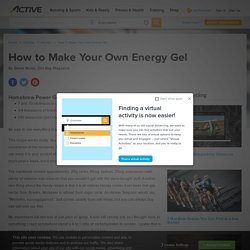 Make Your Own Homemade Energy Gel | Page 2
Vegetarian Recipes for Athletes | No Meat Athlete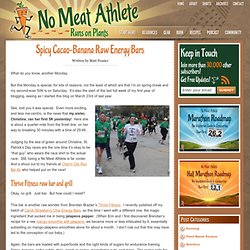 Spicy Cacao-Banana Raw Energy Bars | No Meat Athlete
What do you know, another Monday. But this Monday is special, for lots of reasons, not the least of which are that I'm on spring break and my second-ever 50K is on Saturday. It's also the start of the last full week of my first year of blogging, seeing as I started this blog on March 23rd of last year.
If you fuel your workouts by putting nothing but processed junk in your body, what kind of results do you expect to get from it? Even for non-vegetarians just looking to get away from processed, commercial sports drinks and gels, the guidelines and recipes here are highly useful. When you fuel your runs with natural foods, you derive energy from sources that humans have evolved to eat over millions of years—ingredients that your body knows how to effectively handle.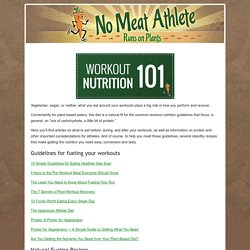 Homemade Energy Bars | No Meat Athlete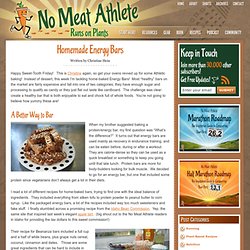 Happy Sweet-Tooth Friday! This is Christine again, so get your ovens revved up for some Athletic baking! Instead of dessert, this week I'm tackling home-baked Energy Bars!