Humour
Business Guys on Business Trips. Lusha the monkey outperforms 94% of Russia bankers with her inve. By Will Stewart Updated: 00:13 GMT, 13 January 2010 They are paid a fortune for their ability to make complex decisions about where to invest millions of pounds every single day.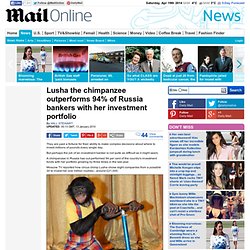 But perhaps the job of an investment banker is not quite as difficult as it might seem. A chimpanzee in Russia has out-performed 94 per cent of the country's investment funds with her portfolio growing by three times in the last year. Moscow TV reported how circus chimp Lusha chose eight companies from a possible 30 to invest her one million roubles - around £21,000. Wall Street 2: Greed Is Good, But It Is Also Old - Wall street: Charlie Brooker - How To Report The News.
HEROES ARE VICTIMS TOO | Hungry Beast. Embargoes. Cursebird: What the f#@! is everyone swearing about? Breaking News: Some Bullshit Happening Somewhere. V funny sign in coffee shop in Lorne over the weekend... on Twit. Data Underload #12 – Famous Movie Quotes | FlowingData.
---