Academic Guide
We teach students to imagine, question, experiment, innovate, build, and reflect. Our curriculum is designed to foster independent thinking and to give students a balance of foundational knowledge and skills, with flexibility to follow their passions. We offer a variety of degrees to meet students' various educational and career goals, preparing them to be leaders in architectural practice, research, or related fields in the building industry and environmental design. At the undergraduate level, we offer a four-year program leading to the Bachelor of Arts degree with a major in architecture. This program offers both a liberal arts oriented and pre-professional education.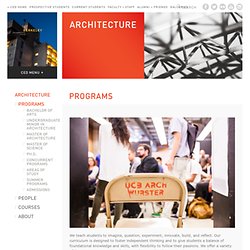 Department of Architecture - UC Berkeley - Bachelor of Arts in Architecture
Pasadena City College
PCC - Course Information
College
Student Financial Aid January Communication 20 December 2013 The Peralta District Colleges are in the process of upgrading our computer information systems. All online services associated with this PeopleSoft upgrade will be unavailable starting at 6:00 P.M. on Friday, January 10, 2014 and ending at 6 A.M. on Monday, ending January 13, 2014. Passport, PROMT, Admissions and Records registration services, Counseling computer functions, and all payment systems will be unavailable.