Salesforce development
Validation rule
Salesforce expert. Salesforce Certification. Email to Salesforce. Salesforce URL Hacking to Prepopulate Fields on a Standard Page Layout | Cloud Clod. Hey everyone.
This post is now the #1 result when you google Salesforce URL Hacking , so thanks for that! There are almost 100 comments of people asking and answering great questions below , so please take the time to read through them before asking a new question. Thanks! Features Tour.
Dashboard. Call center. Salesforce packing process. ISV. Certification. Coding. Security review. Record sharing. Lead converter. Reporting. Conga. Default view. Person account. Facebook. Social platform. Excel. Salesforce forms. Force.com cookbook. Forms. Contact forms. Fieldsets. Best practice. Salesforce experts.
Multi currency
Certification. Web to lead. Flow. Custom button. Prototype Composer — Serena Software. Serena Prototype Composer helps you quickly and accurately simulate how an application will look and function without writing any code.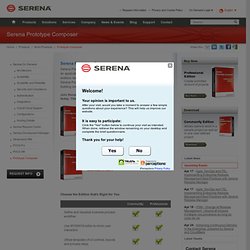 Instead of endless text entries, complex data hierarchies, or technical UML diagrams, Serena Prototype Composer makes it easy to collaborate on requirements by building simple, high fidelity prototypes that look like the real thing. Join thousands of Serena Prototype Composer users by downloading it today. There are two editions available for you to use:
Freelance
To read. Trigger. Tutorial. Cookbook. Apex. Integration. Visualforce.
---