.tgz + ports
We produce Gentoo Linux, a special flavor of Linux that can be automatically optimized and customized for just about any application or need. Extreme performance, configurability and a top-notch user and developer community are all hallmarks of the Gentoo experience. To learn more, read our about page. Blog posts Posted on January 17, 2014 by planet.gentoo.org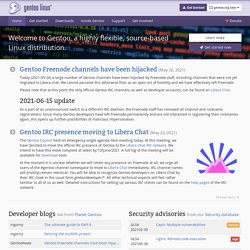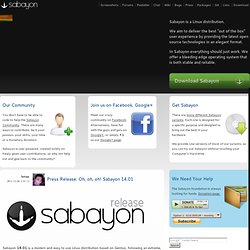 Steam Big Picture mode Following our well appreciated Media Center mode, that lets you convert your computer into an XBMC-based media center, we're now offering a way to get away from the boring Christmas movies and start doing something more serious: gaming, on Linux. Our KDE and GNOME images come with Steam preinstalled and ready to be launched. In addition to this, a new boot and install mode called "Steam Big Picture" (formerly and improperly known as SteamBox mode) is now available letting you turn your computer into a real Linux gaming console, no matter if it is NVIDIA, AMD or Intel GPU-based. Parallel Entropy, parallel PackageKit It took a couple of months to be ready for prime time, but we're happy to announce that Sabayon 14.01 is being shipped with Entropy 254, containing true parallelization support.
Introduction CRUX is a lightweight Linux distribution for the x86-64 architecture targeted at experienced Linux users. The primary focus of this distribution is keep it simple, which is reflected in a straightforward tar.gz-based package system, BSD-style initscripts, and a relatively small collection of trimmed packages.
CRUX | Main / HomePage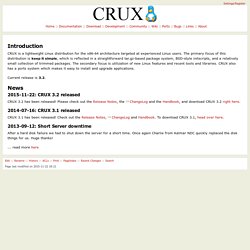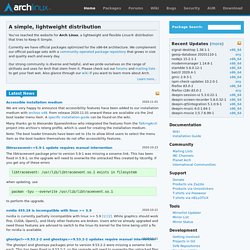 From version 207 on, systemd will not apply the settings from /etc/sysctl.conf anymore: it will only apply those from /etc/sysctl.d/*. Since the settings of our /etc/sysctl.conf shipped by procps-ng have become kernel defaults anyway, we have decided to deprecate this file. Upon upgrading to procps-ng-3.3.8-3, you will be prompted to move any changes you made to /etc/sysctl.conf under /etc/sysctl.d. The easiest way to do this is to run: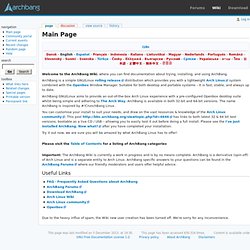 From ArchBang Welcome to the ArchBang Wiki, where you can find documentation about trying, installing, and using ArchBang. ArchBang is a simple GNU/Linux rolling release distribution which provides you with a lightweight Arch Linux system combined with the Openbox Window Manager. Suitable for both desktop and portable systems – It is fast, stable, and always up to date. ArchBang GNU/Linux aims to provide an out-of-the-box Arch Linux experience with a pre-configured Openbox desktop suite whilst being simple and adhering to The Arch Way. ArchBang is available in both 32-bit and 64-bit versions.
Frugalware Linux - Let's make things Frugal!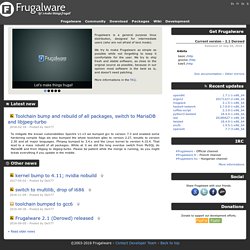 The Frugalware Developer Team is pleased to announce the immediate availability of Frugalware 1.9, our nineteenth stable release. No new features have been added since 1.9rc2. If you didn't follow the changes during the pre/rc releases, here are the most important changes since 1.8 in no particular order: Updated packages: Linux kernel 3.10.17, XOrg server 1.14.2, GNOME 3.8, KDE 4.11, LibreOffice 4.1.2.3, Mozilla Firefox 22.0 to name a few major components. netconfig has been replaced by NetworkManager frugalwareutils has been replaced by the new fvbeutils vi binary symlinks are now configurable, used to be hardcoded to their packages old display-manager-legacy.service has been dropped for the new systemd method of individual service files console keymaps and x11 keymaps are now managed by the systemd method Additionally, this marks the first stable release using the new installer that has been in development for a year already.