Chaisaeng
Chaisaeng Euesakulkieat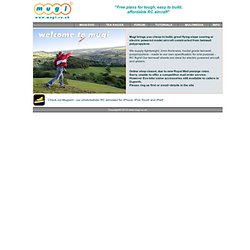 Mugi brings you cheap to build, great flying slope soaring or electric powered model aircraft constructed from twinwall polypropylene. We supply lightweight, 2mm thickness, model grade twinwall polypropylene - made to our own specification for one purpose - RC flight! Our twinwall sheets are ideal for electric powered aircraft and gliders. Online shop closedRegrettably, due to new Royal Mail postage rates, we are unable to continue to offer a competitive mail order service.
Mugi - Tough, easy to build, affordable RC aircraft and free plans.
Showcasing amazing artistically carved Halloween pumpkin designs or 'jack o' lanterns'. Also there's a video below showing how pumpkin carving is done. Let us know which one of these Halloween pumpkins is your favorite by commenting below. Did you know that Jack o' lanterns originated in Ireland as hollowed out turnips with candles packed in them to keep away evil ghosts and spirits on the Samhain holiday. The first 3 pumpkins here are taken from the amazing Ray Villafanes website The correct spelling halloween is in fact Hallowe'en
ol Halloween Pumpkin 'Jack O' Lanterns' Designs
The above map of the world, drawn by Facebook data structuring intern Paul Butler using connections between 10 million Facebook friends (full-size link), is interesting enough in itself until you realize that all of the country borders are entirely drawn using Facebook friend connections too. Even if the world was dark and totally unmapped, Facebook could produce a remarkably good approximation of most of its continents' boundaries, and even the borders of some countries. It still took some clever math.