Career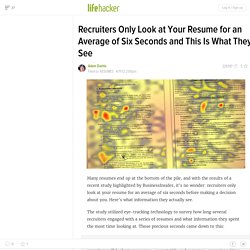 I've been experimenting with my resume lately. I've done a couple of things that I've gotten good feedback on. First, my resume is long.
Recruiters Only Look at Your Resume for an Average of Six Seconds and This Is What They See
10 Sites to Help You Land a Tech Job - 7. Jobfox - Slideshow from PCMag.com
Your Resume vs. Oblivion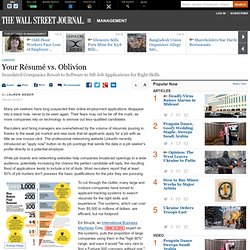 Many job seekers have long suspected their online employment applications disappear into a black hole, never to be seen again. Their fears may not be far off the mark, as more companies rely on technology to winnow out less-qualified candidates. Recruiters and hiring managers are overwhelmed by the volume of résumés pouring in, thanks to the weak job market and new tools that let applicants apply for a job with as little as one mouse click. The professional networking website LinkedIn recently introduced an "apply now" button on its job postings that sends the data in a job seeker's profile directly to a potential employer. While job boards and networking websites help companies broadcast openings to a wide audience, potentially increasing the chance the perfect candidate will reply, the resulting flood of applications tends to include a lot of duds. Most recruiters report that at least 50% of job hunters don't possess the basic qualifications for the jobs they are pursuing.
Automate Your Job Search with the Webapp-Supercharging ifttt
Writing a Career Action Plan - Why You Need One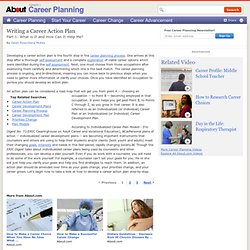 Developing a career action plan is the fourth step in the career planning process. One arrives at this step after a thorough self assessment and a complete exploration of viable career options which were identified during the self assessment. Next, one must choose from those occupations after examining them carefully and determining which one is the best match.
I once spoke to a former co-worker who was working at a company that I wanted to apply for. He told me that after going through the resume submission/questionnaire process, if I got an email response immediately, then it's already rejected my submission, and to keep tweaking it until I didn't get an immediate response. I did that, and eventually got up to a phone interview.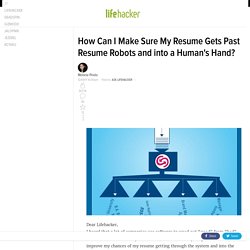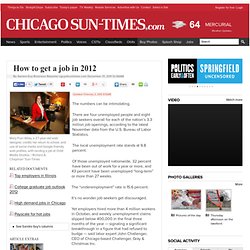 By Sandra Guy Business Reporter sguy@suntimes.com December 31, 2011 12:36AM Mary Fran Wiley, a 27-year-old web designer, credits her return to school, and use of social media and Google-friendly web profiles, with landing a job at Orbit Media Studios. | Richard A. Chapman~Sun-Times storyidforme: 23398984 tmspicid: 8692989 fileheaderid: 3918287 Updated: February 2, 2012 8:12AM The numbers can be intimidating.
How to get a job in 2012