Career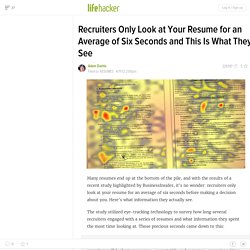 Many resumes end up at the bottom of the pile, and with the results of a recent study highlighted by BusinessInsider, it's no wonder: recruiters only look at your resume for an average of six seconds before making a decision about you. Here's what information they actually see. The study utilized eye-tracking technology to survey how long several recruiters engaged with a series of resumes and what information they spent the most time looking at.
Recruiters Only Look at Your Resume for an Average of Six Seconds and This Is What They See
10 Sites to Help You Land a Tech Job - 7. Jobfox - Slideshow from PCMag.com
Your Resume vs. Oblivion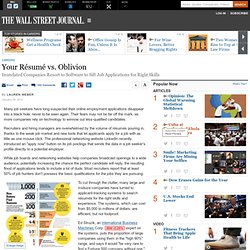 By LAUREN WEBER Many job seekers have long suspected their online employment applications disappear into a black hole, never to be seen again. Their fears may not be far off the mark, as more companies rely on technology to winnow out less-qualified candidates.
Automate Your Job Search with the Webapp-Supercharging ifttt
There are a lot of ways to find a new job online, from job searching sites to a simple Google trick .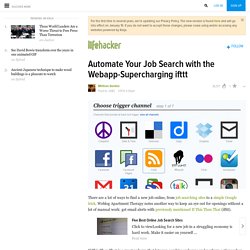 Writing a Career Action Plan - Why You Need One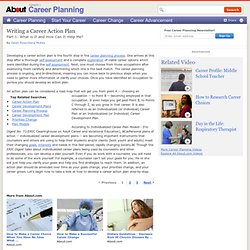 Developing a career action plan is the fourth step in the career planning process . One arrives at this step after a thorough self assessment and a complete exploration of viable career options which were identified during the self assessment . Next, one must choose from those occupations after examining them carefully and determining which one is the best match.
Dear Lifehacker, I heard that a lot of companies use software to weed out "good" from "bad" resumes. How do those systems work, and is there anything I can do to improve my chances of my resume getting through the system and into the hands of a real person? Thanks, Resume Revamper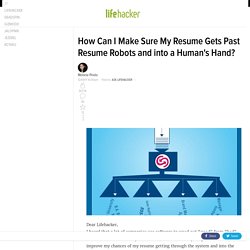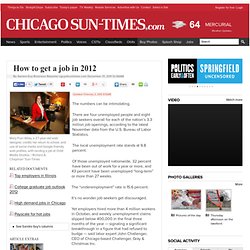 By Sandra Guy Business Reporter sguy@suntimes.com December 31, 2011 12:36AM Mary Fran Wiley, a 27-year-old web designer, credits her return to school, and use of social media and Google-friendly web profiles, with landing a job at Orbit Media Studios. | Richard A.
How to get a job in 2012