Journalistic Objectivity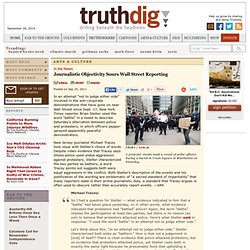 Journalistic Objectivity Sours Wall Street Reporting - In the News
Journalistic Objectivity Sours Wall Street Reporting Posted on Sep 25, 2011
Media / Political Bias There is no such thing as an objective point of view. No matter how much we may try to ignore it, human communication always takes place in a context, through a medium, and among individuals and groups who are situated historically, politically, economically, and socially.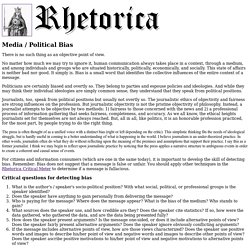 This is a confusing time for journalism students. Professors stress the importance of objectivity in reporting, but some of the most prominent journalists in the country - the hosts of cable TV talk shows - are anything but objective.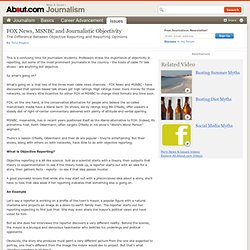 We have a lot to complain about in the way most media have handled economic stories. Even the so-called public media outlets such as NPR have been problematic. Here is the text of a speech I gave at an Indymedia Conference in Oakland, CA – Nov. 13, 2010 dealing with one of journalism's sacred cows -objectivity- and its effect on economic stories.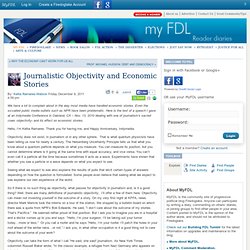 Journalistic Objectivity and Economic Stories
Journalism, as we've known it, has been mourned deeply over the last few years. The Internet has changed everything.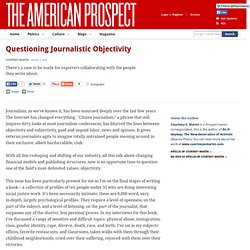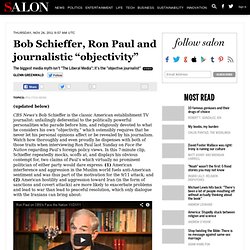 CBS News 's Bob Schieffer is the classic American establishment TV journalist: unfailingly deferential to the politically powerful personalities who parade before him, and religiously devoted to what he considers his own "objectivity," which ostensibly requires that he never let his personal opinions affect or be revealed by his journalism.
Idealogical Polarization
Origins of Objectivity - Richard Kaplan
Transformation of the Press - Richard Kaplan