Resources
Time-Saving and Educational Resources for Web Designers - Smashing Magazine. Advertisement Web design community is strong and hard-working.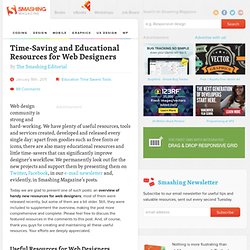 We have plenty of useful resources, tools and services created, developed and released every single day: apart from goodies such as free fonts or icons, there are also many educational resources and little time-savers that can significantly improve designer's workflow. We permanently look out for the new projects and support them by presenting them on Twitter, Facebook, in our e-mail newsletter and, evidently, in Smashing Magazine's posts. 45 Incredibly Useful Web Design Checklists and Questionnaires - Smashing Magazine.
Advertisement Designing websites can be a long and complicated process.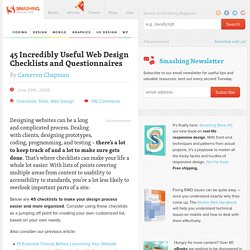 Dealing with clients, designing prototypes, coding, programming, and testing – there's a lot to keep track of and a lot to make sure gets done. That's where checklists can make your life a whole lot easier. With lists of points covering multiple areas from content to usability to accessibility to standards, you're a lot less likely to overlook important parts of a site.
Free Web Resources – Web Resources Depot. Online Web-Based Presentations with Real-Time Control | Black Tonic. Download Treasure! Web.
---