Inspiration
Home
Dragon Interactive
TypoJungle
Chris Meisner
Hyperakt » Meaningful Design for the Common Good
here design
les Avignons - communications & design
Beautiful illustrated posters by Mads Berg
Web Inspire - Burciaga
55 Hi's | A Greetings Collective
The Best Things | 55 Hi's | A Greetings Collective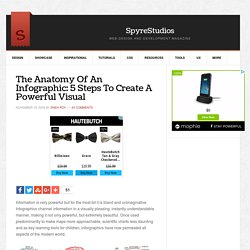 Information is very powerful but for the most bit it is bland and unimaginative. Infographics channel information in a visually pleasing, instantly understandable manner, making it not only powerful, but extremely beautiful. Once used predominantly to make maps more approachable, scientific charts less daunting and as key learning tools for children, inforgraphics have now permeated all aspects of the modern world.
The Anatomy Of An Infographic: 5 Steps To Create A Powerful Visual
Cool Infographics - Blog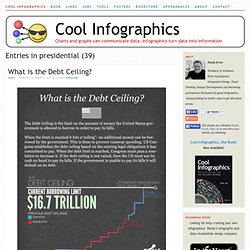 The new 2014 Death & Taxes poster has been released, and it is fantastic! Visualizing the President's proposed budget for next year, each department and major expense item is represented with proportionally sized circles so the viewer can understand how big they are in comparison to the rest of the budget. Previously, the Death & Taxes series has been a project of Jess Bachman (ByJess.net), but this year the series has been taken over by the great team at Timeplots. Owner Nathaniel Pearlman graciously spent some time answering some of my questions:
Dale Harris - Creative Branding & Graphic Design Bendigo Victoria Australia
Design Inspiration + Visual Art Inspiration | Designflavr |
Carrot Creative
CreamScoop / Front-end Web Development
SEO & Web | Memphis Website Design & Development by Deluge Studios
Veerle's blog 3.0 - Webdesign - XHTML CSS | Graphic Design
Website Anatomy Class | Build Internet!
Five Minute Upgrade | Build Internet!
Add a Mobile Landing Page to Your Site Give mobile visitors a way to quickly access your company phone number, email, or just directions to the office. Five Minute Upgrade – Make Your Workstation (More) Ergonomic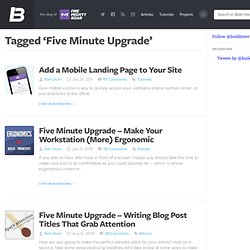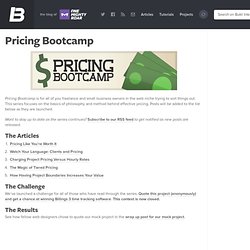 Pricing Bootcamp is for all of you freelance and small business owners in the web niche trying to sort things out. This series focuses on the basics of philosophy and method behind effective pricing. Posts will be added to the list below as they are launched. Want to stay up to date as the series continues?
Pricing Bootcamp | Build Internet!
CU3ER - 3D image slider!
Musa Dzine
Inspiredology - Design inspiration lab
WellMedicated - Inspiration Overdose
50 Amazing Gig Posters Sure to Inspire
The gig poster scene isn't exactly the best kept secret among music fiends like myself.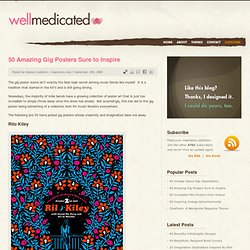 Forty Design and Marketing | Forty
portrait | kelsey foster photography
Business Card Design | Unique Business Cards by Card Observer
Simon Lunt. Graphic Designer. London - WELCOME
Signing on the dotted line...
I often get email requests regarding my graphic design contract.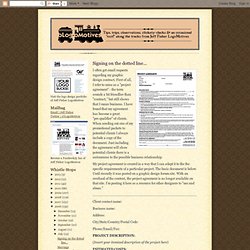 I believe that everybody already understands the importance of social media, and incorporating it into a web design.
55 Examples of Beautifully Integrated Social Media Links in Web Design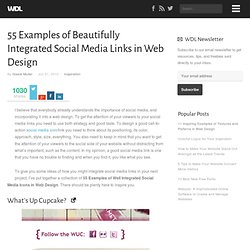 Timothy Smith
24 ways - web design and development articles and tutorials for advent
Print: Design for Curious Minds
Behance.com :: We design products and services that empower the creative world to make ideas happen
We Love Webdesign
heyIndy.com
mint: design, art, fashion, and wedding blog by ellie snow
a selection of graphic projects
Site storyboarding and design | Web Designer - Defining the internet through beautiful design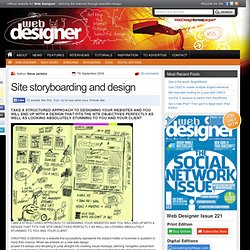 CREATING A DESIGN for a website that successfully represents the subject matter or business in question is more than chance.
EightHourDay
Splashnology - Web Design and Web Technology Community
MIX Online
Designing for the Web – Contents
Information Is Beautiful | Ideas, issues, knowledge, data - visualized!
::: CMYK Magazine Online ::: The art-design magazine featuring a quarterly art school design contest for emerging artists in art direction, copywriting, design, photography and illustration. ::: Art School Portfolio Competition-Showcase, Aspiring Creative