CHURCH
Free Inspirational Movie Clips for Sermon Illustrations and Teaching at WingClips.com. Church Media, Web Design and Visual Resources. CreationSwap.com. ChurchCrunch | Exploring the Intersection of Web Technology and the Church. Open Resources | Free Church Media, Graphics, Videos, Countdowns, Worship Backgrounds. Ministry CSS – A CSS gallery designed to inspire. Red rocks church : experience. Park Community Church | INDEX. Graphic Design and Religion: A Call for Renewal. May 27, 2008 by Joshua Cody "Religions must begin to see graphic design not as an expensive luxury or an unnecessary frivolity but as a steward of goodwill.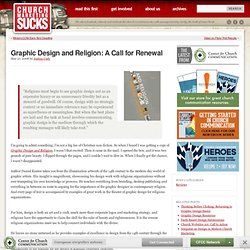 Of course, design with no strategic context or no immediate relevance may be experienced as superfluous or meaningless. But when the best plans are laid and the task at hand involves communicating, graphic design is the medium through which the resulting messages will likely take root." Collide Magazine. Free Church Graphics and Resources Toolbox | churchrelevance. This article is brought to you by Open Church: Great custom graphic design is ideal.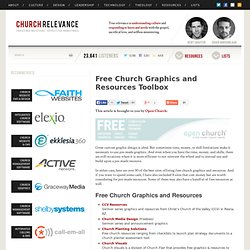 But sometimes time, money, or skill limitations make it necessary to use pre-made graphics. And even when you have the time, money, and skills, there are still occasions when it is more efficient to not reinvent the wheel and to instead use and build upon a pre-made resource. In either case, here are over 30 of the best sites offering free church graphics and resources. And if you want to spend some cash, I have also included 8 sites that cost money but are worth considering for pre-made resources.
Free Christian Photos and Church Graphics by global Christian artist network CreativeMYK.com.
---
cruddell001 Oct 31 2011

nice collection...I grabbed a few for one of my trees! Thanks.
---