Groupes et festival
Voici divers groupes et festivals que j'aime :) Sep 12
AC/DC
Indo.fr, le site officiel d'Indochine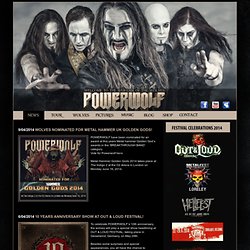 POWERWOLF - Blood of the saints
9/04/2014 WOLves nominated for Metal Hammer UK golden gods! POWERWOLF have been nominated for an award at this years Metal hammer Golden God's awards in the 'BREAKTHROUGH BAND' category. Vote for Powerwolf here
Marilyn Manson | Official Website | Videos, Photos, Paintings
Rammstein World
2013 fut majoritairement axée sur la fin du Made In Germany tour, avec notamment 4 concerts français. Et Till Lindemann a sorti son deuxième recueil de poésie, In stillen Nächten. 2014 devrait être calme au niveau concerts ou sorties de disque, mis à part pour le DVD/Blu-ray live. Nos informations indiquaient qu'il devait sortir fin 2013, mais les plans ont changé et le live sortira en 2014. Pourquoi pas au sein d'un projet lié aux 20 ans du groupe, ce qui expliquerait cette sortie tardive ?
Slipknot × Headquarters
VAN CANTO - Hero Metal A Capella
Sabaton - Official Headquarters | The home of Swedish heavy metal band Sabaton
Metalcamp
CAMP SITE: MZSS are back with a tasty discount! We are very happy to tell you, that our friends at mein-zelt-steht-schon.de are back in the boat! If you check our sitemap, you will see, that CAMP SITE is published now. You will find all the info about the cool rent a tent service there.... more >
Tolmin
HELLFEST Open Air 2011 - France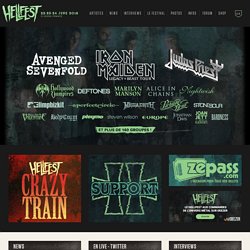 07 Avril 2014 This year for your comfort, Hellfest adds lockers in the Metal Corner. Several sizes are available (M,L,XL).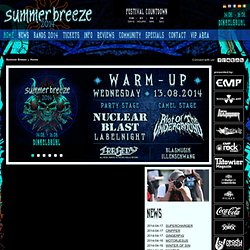 15th Anniversary 2012 - Summer Breeze Open Air 2012
BANDWÜNSCHE :: Eskimo Callboy :: Autor Darkwave Auch wenn ich jetzt mit 99%iger Wahrscheinlichkeit ne fette Hate-Welle an' Kopf bekomm wollte ich doch trotzdem für 2014 wieder auf EC aufmerksam machen BANDWÜNSCHE :: Re: Eskimo Callboy :: Antwort von hulud och, zu billig diese provokation hier.passendes review zur musik findet man hier:http://plattent... BANDWÜNSCHE :: Re: Eskimo Callboy :: Antwort von Darkwave Hach hulud es wundert mich ja garnicht mehr dass du überall deinen Senf dazugeben musst - anscheinend vor allem bei Bands deren Genre dich Null interessiert. Aber jeder Mensch braucht ein Hobby, gel... BANDWÜNSCHE :: Re: Eskimo Callboy :: Antwort von BeRaWa Ne ne ne, vielen Dank, bloß nicht.Ein Kumpel hat sich damals tatsächlich ins Zelt begeben um denen zuzuschauen.
Le plus grand Heavy-Metal Label du monde, Merchandise & Mailorder - Nuclear Blast
AFI | Official Site