Tsunami
The Seafloor Focuses and Merges Tsunami Waves. Scientists have known for years that the shape of the seafloor plays a role in how tsunami waves build up as they approach the coastline.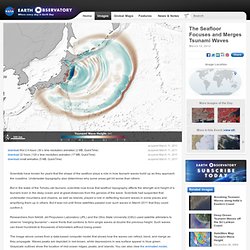 Underwater topography also determines why some areas get hit worse than others. But in the wake of the Tohoku-oki tsunami, scientists now know that seafloor topography affects the strength and height of a tsunami even in the deep ocean and at great distances from the genesis of the wave. Scientists had suspected that underwater mountains and chasms, as well as islands, played a role in deflecting tsunami waves in some places and amplifying them up in others. But it was not until three satellites passed over such waves in March 2011 that they could confirm it. Researchers from NASA' Jet Propulsion Laboratory (JPL) and the Ohio State University (OSU) used satellite altimeters to observe "merging tsunamis"—wave fronts that combine to form single waves at double the previous height.
Japon : les images du tsunami en direct. Environmental Visualization Laboratory - Animated View of Tsunami Wave Height Model. Tsunami kesennuma.flv. Tsunami Simulator. Défense - Séismes et tsunamis. Cette simulation numérique, effectuée par les équipes du département d'analyse et de surveillance de l'environnement (Dase) du CEA, représente la propagation du tsunami généré par le séisme du Japon de ce vendredi 11 mars 2011.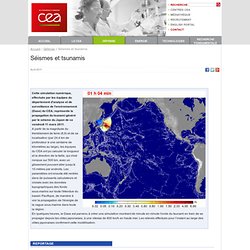 A partir de la magnitude du tremblement de terre (8,9) et de sa localisation (par 24,4 km de profondeur à une centaine de kilomètres au large), les équipes du CEA ont pu calculer la longueur et la direction de la faille, qui s'est rompue sur 500 km, avec un glissement pouvant aller jusqu'à 10 mètres par endroits. Les paramètres ont ensuite été rentrés dans de puissants calculateurs et croisés avec les données topographiques des fonds sous-marins sur toute l'étendue du bassin Pacifique, de manière à voir la propagation de l'énergie de la vague sous-marine dans toute la région. Le Japon sinistré - une vidéo High-tech et Science. Tsunami of Tohoku Earthquake Before Wrecking the Coast.
---