Soleil / Sun
Looking In The Sun's Rear-View Mirror: A New Map Of The Local Interstellar Medium
Groupement Français pour l'Observation et l'Etude du Soleil
Alan Friedman is a fascinating guy. By day he's a maker of greeting cards and a lover of hats , but in his spare time he's a self-proclaimed space cowboy who points a telescope skyward from his backyard in downtown Buffalo, directly into the light of the sun. Using special filters attached to his camera Friedman captures some of the most lovely details of the Sun's roiling surface.
Alan Friedman's Astonishing HD Photographs of the Sun Shot from his Own Backyard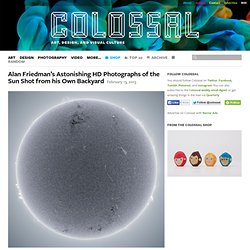 Une nouvelle composition réalisée par la NASA expose les différents aspects du soleil mis en évidence à différentes longueurs d'onde par le Solar Dynamics Observatory (SDO). Pour comprendre comment se compose et évolue le soleil, il faut aller l'étudier au delà de la perception. A travers la lentille d'un simple appareil photo, ou à l'œil nu, le Soleil apparaît jaune pâle, toutefois l'astre émet de la lumière dans toutes les couleurs. Aussi, les astronomes équipent leurs télescopes terrestres et spatiaux d'instruments capables d'observer la lumière émise par l'étoile dans 10 longueurs d'ondes différentes. Une nouvelle composition, publiée par la NASA présente le Soleil sous la forme d'une véritable mosaïque d'images prises dans des gammes hors du spectre visible. Les clichés qui composent le patchwork ont été capturés par le Solar Dynamics Observatory (SDO), un observatoire solaire placé sur une orbite géostationnaire à plus de 35.000 kilomètres de la Terre.
La NASA dévoile les multiples visages du Soleil grâce à la sonde SDO - Gentside
Solar loop | Flickr : partage de photos !
NASA SDO - Today's Sun; September 11, 2012
www.solarastronomy.org where the Sun always shines!
SDO | Solar Dynamics Observatory
Galerie de sdomission
SDO Art - Solar Dynamics Observatory |
STEREO
SIDC - Solar Influences Data Center
Solar Flares: What Does It Take to Be X-Class? Solar flares are giant explosions on the sun that send energy, light and high speed particles into space. These flares are often associated with solar magnetic storms known as coronal mass ejections (CMEs).
Solar Flares: What Does It Take to Be X-Class?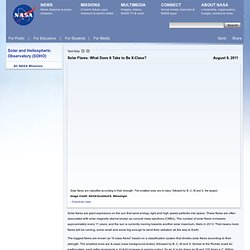 Sun Unleashes X6.9 Class Flare
Sun Unleashes X6.9 Class Flare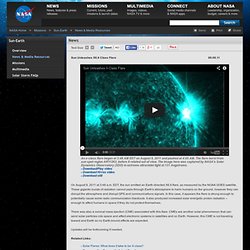 Space Weather Now
Le Soleil - SpaceWeather live
Real-time plots auroral activity Here you'll find plots of the solar wind speed/density and the Interplanetary Magnetic Field (IMF) of the last two hours, these are the first parameters in the predicition of auroral activity.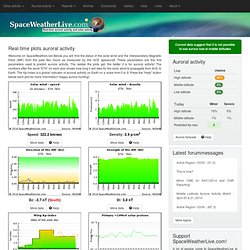 iNtegrated Space Weather Analysis System ( iSWA ) : iswa3 : Version 1.9.5 [Prepared Wormhole]
SunCalc - sun position, sunlight phases, sunrise, sunset, dusk and dawn times calculator
SunCalc is a little app that shows sun movement and sunlight phases during the given day at the given location.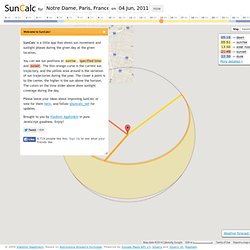 3D Sun for your iPhone and iPod Touch
Aujourd'hui le soleil s'est arrêté. C'est, littéralement, la définition du solstice . À 6h30 précises en effet, heure de Paris (5h30 T.U.), le Soleil s'est arrêté de marcher vers le sud, et se lèvera à présent chaque jour un peu plus au nord de la position qu'il occupait la veille.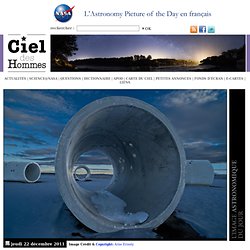 Au travers d'un tunnel du Soleil
Différentes façons de voir le soleil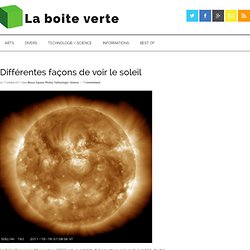 La boite verte :) :o :'( :p :/ :D ಠ_ಠ
Amazingly Detailed Photo of the Surface of the Sun
En se basant sur des données recueillies par l'ESO (European Southern Observatory), les scientifiques ont réussi à donner une idée (et même une image) de ce à quoi ressemble une belle matinée ensoleillée sur Pluton.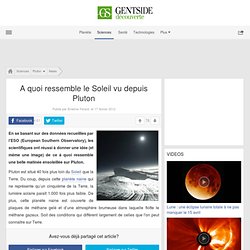 A quoi ressemble le Soleil vu depuis Pluton
Mercredis scientifiques @ATLAS Saint-Ouen