Planétaires / Simulateurs / 3D models / Applis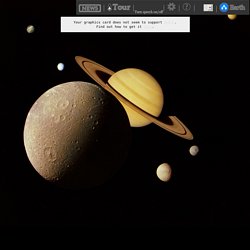 The following formulas are used to calculate the position of each planet. Certain assumptions are made and therefore the positions are only approximations. First the mean anomoly is calculated: ,where M is the mean anomoly and Tp and longitude of perihelion are constants. Then the heliocentric longitude is calculated: ,where v is the true anomoly.
3D Solar System Web
A Game That Lets You Build — Or Destroy — Your Own Solar System
Super Planet Crash - Can you feel the gravity?
Professional astronomers have many tools at their disposal. While you might think of an astronomer as someone who spends countless hours behind the eyepiece of a large telescope, many astronomers spend more time in front of a computer. Using computers, astronomers can model, study, and observe the universe in ways that are not possible with a telescope. Amateur astronomers, however, are often confined to observe only with telescopes. Gravity Simulator provides amateur astronomers with a powerful numerical integration tool. By performing n-body simulations, you can study the orbits of planets, moons, asteroids, or any object in the universe.
Gravity Simulator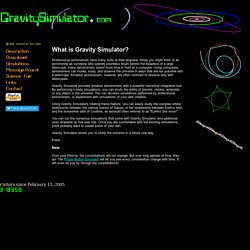 Earth orbit simulator
astro.unl.edu/naap/pos/animations/kepler.swf
Gravity and Orbits - Gravitational Force, Gravity, Force
Simulateur en ligne des orbites de révolution des planètes
Solar System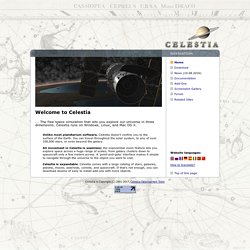 Welcome to Celestia ... The free space simulation that lets you explore our universe in three dimensions. Celestia runs on Windows, Linux, and Mac OS X. Unlike most planetarium software, Celestia doesn't confine you to the surface of the Earth.
Description 3D simulation of the Solar System and night sky in real time - the Sun, planets, dwarf planets, comets, stars and constellations. - Heliocentric view with real-time positions of planets and planetary orbits - Schematic and realistic sizes of the planets and distances between them - Movement of the planets in time to see how they move in relation to each other - Virtual Orrery - Planetary exploration with info texts and additional views such as structure - Dwarf planets (Pluto, Ceres, Haumea, Makemake. Eris) and their orbits - Comets (Siding Spring, Lovejoy 2013, Lovejoy 2011, Panstarrs, ISON, Halley) - positions and trajectories - Stars and constellation of the night sky as viewed from a given location - Changes in the night sky during night, month and year - Searching of the stars and constellation, ecliptic line, grid lines and more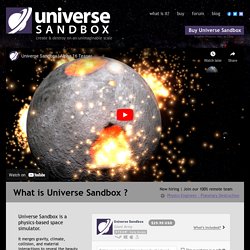 Ultimate Power Spawn massive stars, launch asteroids, and manipulate gravity with just a few clicks. Fun & Interactive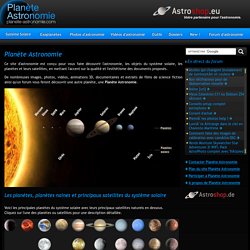 Ce site d'astronomie est conçu pour vous faire découvrir l'astronomie, les objets du système solaire, les planètes et leurs satellites, en mettant l'accent sur la qualité et l'esthétisme des documents proposés. De nombreuses images, photos, vidéos, animations 3D, documentaires et extraits de films de science fiction ainsi qu'un forum vous feront découvrir une autre planète, une Planète Astronomie. Les planètes du système solaire et leurs principaux satellites Voici les principales planètes du système solaire avec leurs principaux satellites naturels en dessous. Cliquez sur l'une des planètes ou satellites pour une description détaillée.
Planetary Configurations Simulator - Solar System Models - NAAP
Averted Imagination | Solar System Photography by Alan Friedman