Arts numériques
The real life models on Behance
Artlab's blog
Off Book | Generative Art - Computers, Data, and Humanity | PBS Arts
FrameRate Fest
The Labs - Experiments in JavaScript, Canvas and DHTML
www.digitalarti.com/review/
Download Huge Set Of Vector Icons: iconSweets2 | Icons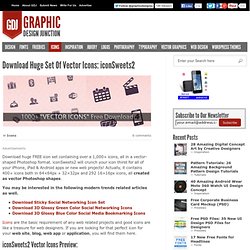 Download huge FREE icon set containing over a 1,000+ icons, all in a vector-shaped Photoshop format. iconSweets2 will crunch your icon thirst for all of your iPhone, iPad & Android apps or new web projects! Actually, it contains 400+ icons both in 64×64px + 32×32px and 292 16×16px icons, all created as vector Photoshop shapes. You may be interested in the following modern trends related articles as well. Icons are the basic requirement of any web related projects and good icons are like a treasure for web designers. If you are looking for that perfect icon for your web site, blog, web app or application, you will find them here. iconSweets2 Vector Icons Preview:
Digg Rings Using the Digg API, I grabbed the top 10 most-dugg stories of the day (by midnight) for the past year - May 24, 2007 to May 23, 2008. I then rendered a series of tree-ring-like visualizations (moving outwards in time). Rings are colored according to Digg's eight top-level categorizations (see key at bottom of page). Ring thickness is linearly proportional to the number of diggs the story received.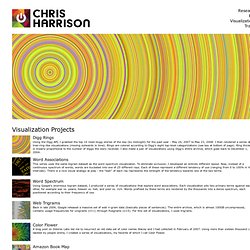 arts numériques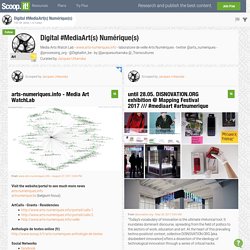 The On Line Festival for Digital Arts on its 10th edition comes under the aegis of collaborative networking, intending to exploit the potential of the internet in the dissemination of digital art by online presentations, screenings and video installations in alternative spaces, streaming performances, workshops, residencies , etc. In this sense, the 2014 program will consist in activities proposed by network partners, both in Portugal and abroad, activities that may be proposed either by the direction of FONLAD as the festivals / partners. The Festival program have been in constantly change, adapting to the partners with which it has maintained its relationship towards a closer approximation to the artistic community and the general public .