Gaming Stats
"gaming" on SlideShare. Infographics' "games" favorite pictures on VisualizeUs. Mobile-Gaming-by-numbers.jpg (JPEG-Grafik, 650x3775 Pixel) Market Research | Consumer Market Research - NPD - The Video Game Industry Is Adding 2-17 Year-Old Gamers At A Rate Higher Than That Age Groups Population Growth. PORT WASHINGTON, NEW YORK, October 11, 2011 –According to Kids and Gaming 2011, the latest report from leading market research company, The NPD Group, since 2009, the population growth of kids ages 2-17 increased 1.54 percent in the U.S., while the gaming population of that age group has grown 12.68 percent.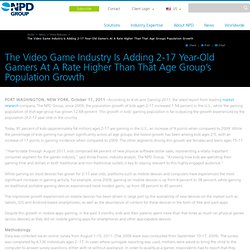 This growth in kids' gaming population is far outpacing the growth experienced by the population of 2-17 year olds in the country. Today, 91 percent of kids (approximately 64 million) ages 2-17 are gaming in the U.S., an increase of 9 points when compared to 2009. While the percentage of kids gaming has grown significantly across all age groups, the fastest growth has been among kids ages 2-5, with an increase of 17 points in gaming incidence when compared to 2009.
The other segments driving this growth are females and teens ages 15-17. Video Game Sales Slump Again. The video game industry continued its gloomy run after reporting a year-over-year sales decline of 6.0% for the month of September, according to a recent report from market research firm The NPD Group.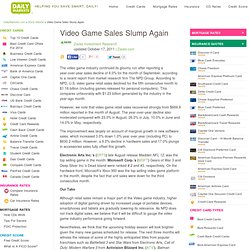 According to NPD, U.S. video game retail sales declined for the fifth consecutive month to $1.16 billion (including games released for personal computers). This compares unfavorably with $1.23 billion generated by the industry in the year-ago month. However, we note that video game retail sales recovered strongly from $669.9 million reported in the month of August. The year-over-year decline also moderated compared with 23.0% in August, 26.0% in July, 10.0% in June and 14.0% in May, respectively. ESA_EF_2011.pdf (application/pdf-Objekt)
The Entertainment Software Association - Home Page. Who's Playing Social Games? [STATS] Casual game-maker Popcap Games (famous for and ) commissioned Information Services Group to perform a survey of people who play social games online .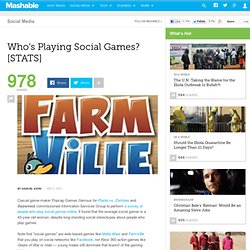 It found that the average social gamer is a 43-year-old woman, despite long-standing social stereotypes about people who play games. Note that "social games" are web-based games like and that you play on social networks like Facebook , not Xbox 360 action games like or — young males still dominate that branch of the gaming hobby. The survey found that 55% of social gamers are female and 45% are male. Females are more avid gamers, too; 38% of females said they play multiple times a day, but just 29% males said the same.
---