Web 2.0 Tools
Splashup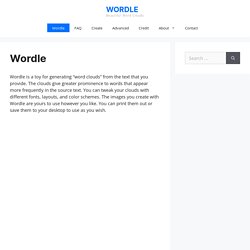 Wordle is a toy for generating "word clouds" from text that you provide. The clouds give greater prominence to words that appear more frequently in the source text. You can tweak your clouds with different fonts, layouts, and color schemes. The images you create with Wordle are yours to use however you like. You can print them out, or save them to the Wordle gallery to share with your friends.
Cubescape - Your own digital landscape
CookThing - How to Cook Anything
Footprint Calculator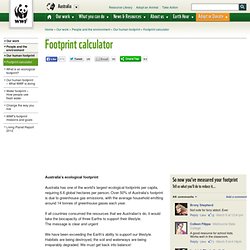 Australia's ecological footprint Australia has one of the world's largest ecological footprints per capita, requiring 6.6 global hectares per person. Over 50% of Australia's footprint is due to greenhouse gas emissions, with the average household emitting around 14 tonnes of greenhouse gases each year. If all countries consumed the resources that we Australian's do, it would take the biocapacity of three Earths to support their lifestyle.