Web 2.0 Tools
Splashup. Prezi - The zooming presentation editor. Welcome to Shelfari! Read, Share, Explore! - Shelfari. Glogster – Poster Yourself | Text, Images, Music and Video. Xtimeline - Explore and Create Free Timelines. Online Diagram Software - Gliffy. Webs - Make a free website, get free hosting. ToonDoo - The Cartoon Strip Creator - Create, Publish, Share, Di. Beautiful Word Clouds. Cubescape - Your own digital landscape.
Team WhiteBoarding with Twiddla - Painless Team Collaboration fo. Voki Home. CookThing - How to Cook Anything. Flash cards, vocabulary memorization, and studying games | Quizl. Footprint Calculator. Australia's ecological footprint Australia has one of the world's largest ecological footprints per capita, requiring 6.6 global hectares per person.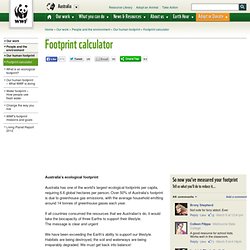 Over 50% of Australia's footprint is due to greenhouse gas emissions, with the average household emitting around 14 tonnes of greenhouse gases each year. If all countries consumed the resources that we Australian's do, it would take the biocapacity of three Earths to support their lifestyle.
---